Opposition demands Saakashvili's resignation
By Etuna Tsotniashvili
Wednesday, September 10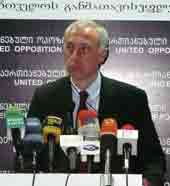 As soon as the State of War in Georgia was lifted, the political opposition lifted its moratorium on criticizing the authorities which it imposed itself during the tense situation in the country. Now a storm of criticism of the Government has begun.
The New Rights Party has directly demanded President Saakashvili's resignation. At a press conference yesterday its leader Davit Gamkrelidze officially stated that moratorium on criticism had been cancelled and maintained that the only way out of the present crisis would be to hold snap Presidential elections.
"The US, Europe and the opposition continually warned Saakashvili that a trap was being prepared for Georgia, but he made the fatal decision to bomb Tskhinvali, after which Georgia lost control not only over the Tskhinvali region but over Didi and Patara Liakhvi, Akhalgori, the Kodori Gorge, Frone and Enguri," he said. He added that as a result of the war the country's economy had been destroyed. He also sated that Georgia had lost its chance of integration in NATO.
Gamkrelidze continued by saying that Mikheil Saakashvili did not have the moral right to be Georgia's President. "He must resign and the date of snap Presidential and Parliamentary elections should be announced," he said. He added that society has a lot of questions for the Government, and those questions are legitimate, but the New Rights has made its own analysis of the current situation. "Georgia was defeated in war. The Government tries to spin this defeat as victory but the result is obvious. Georgia now has thousands of IDPs, victims, a destroyed army, burnt forests and lost territories that have been gambled away by the adventurer Mikheil Saakashvili," Gamkrelidze stated.
New Rights is producing a special document which will contain a plan for how new elections should be held. Gamkrelidze appealed to prominent figures, opposition parties and experts to participate in drawing up this plan. Gamkrelidze also invited those opposition parties who signed the Political Declaration last week to take part. He said that he realized that after making such a statement he would be declared a traitor and an agent but "the most important thing is to tell the truth and save the country," he said.
The ruling National Movement has responded to Gamkrelidze's statements. MP Giorgi Gabashvili stated that he was very sorry that political forces which called the Russian aggression intergovernmental PR have appeared in Georgia, when the whole world has condemned Russia.
Gabashvili did not say whether the New Rights is in the pay of Russia but suggested it reviewed its position.
Prior to Gamkrelidze's statement Labour leader Shalva Natelashvili also appealed on Saakashvili to resign. In his briefing Natelashvili said that both the President and the Government should be changed in a peaceful way. "It will be better if President Saakashvili and his Government understand the true situation and leave their posts," he stated last week.
The Georgian opposition's new demands immediately caught the Russian media's attention. Articles with headlines such as "Saakashvili's opponents are raising their heads," "Georgian opposition demand Saakashvili's resignation," etcetera, have appeared, and the comments have become the top story for Russian news agencies, newspapers and TV programmes.