RAK Investment Authority supports Georgia
Thursday, September 11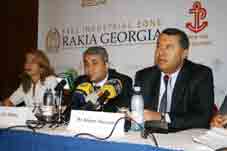 The founders and management of RAK-Investment Authority express their regret at the recent events in Georgia and hope that the country will recover in the shortest possible time.
RAK-IA has been working in Georgia since 2006, and is undertaking several substantial and important projects. Despite the current difficulties, it continues investing in Georgia. Work on all its projects is underway, and it is hoped these will be completed according to their original timetables.
As is known, RAK-IA is the owner of 51% of Poti port. Serious work to develop the Poti port infrastructure has already begun. This will involve increasing its operational capacity, building terminals and new docks, implementing new technologies etcetera. USD 200 million has been allotted for investment in this direction.
RAK-IA also owns the environs of Poti port, an area of 300 hectares, and the construction of a free industrial zone there is underway.
During August Poti port became one of the main targets for Russian retaliation, and received serious damage and loss as a result of air raids. Three employees of the port were killed and several seriously wounded, and the port administration rendered the maximum support it could to the families of the victims of the aggression. By the most recent estimate the port suffered a material loss of GEL 272,000. To this figure should be added the loss the port received due to its temporary inability to function, estimated to be approximately GEL 2 million.
Contractor companies also received serious losses. Three of their employees were killed, and overall they lost more than GEL 1 million. Detailed information will be available later.
The first stage of the construction of the free industrial zone has started. This involves project formulation and piling, winnowing, leveling, draining marshland, fencing and so on. Unfortunately two Russian Army checkpoints, with troops and heavy armoured vehicles, are deployed on this territory at present. Due to this the work has been temporarily suspended. It will be resumed as soon as the Russian armed forces leave. Under these circumstances the completion of this stage of the works will presumably be delayed.
However, Rakeen Development continues to operate successfully, a company which carries out innovative and prestigious projects in Georgia. In mid-August an extra GEL 11 million investment was made in its current constructing projects, Uptown Tbilisi and Tbilisi Heights.
"We hope that Georgia will soon return to its usual condition, the political environment will stabilize and the positive dynamics in the social and economic development of the country will continue", says Khater Masaadi, Chairman of the RAK-IA Board of Directors.
Zaza Mikadze, RAK-IA Director General in Georgia, states that RAK-IA projects will play a very significant role in the development of the country's economy. "We hope that they will be a guarantee of Georgia's progress and welfare."
RAK Investment Authority ( Ras Al Khaimah Emirate of the United Arab Emirates). It was one of the biggest investors to enter Georgia in 2006, arriving with USD 2 billion in investment capital.
From April 2008 RAK-IA became the owner of 51% of Poti seaport shares, making a USD 80 million initial investment.
At this time, following a decision by the Georgian Government, RAK-IA started constructing the necessary infrastructure around Poti port for the creation of a free industrial zone (on 300 hectares of land, with USD 10 million in initial investment).
The abovementioned projects are extremely important for the country's economic development. RAK-IA intends that Poti will become one of the most strategically important cities in the Caucasus region, profitable for the world's leading companies and enterprises, and international investors, to enter. Infrastructure will be developed and thousands of new jobs created, and this will obviously positively influence not only the city itself but the country's general economic development.
Rakeen is the biggest development company in the Ras Al Khaimah Emirate. The company was established in the United Arab Emirates.
Rakeen Development is involved in innovative and important projects in Tbilisi, (Uptown Tbilisi, Mtatsminda Recreational Park), Tabakhmela (Tbilisi Heights) and Vardzia. The future projects in Batumi and Gonio are planned. All Rakeen projects seek to introduce new lifestyle standards and create in Georgia a world level tourist infrastructure.
The RAK Ceramics Shop, which sells top quality ceramics, bathroom items, decorative ceramics and tableware, is already trading in Tbilisi. RAK Ceramics is very popular around the world. In the near future it is intended to open RAK Ceramics Enterprises Georgia, which will produce goods for the local market as well as for export. There are initial steps taken to construct a new cement factory near town of Marneuli.
RAK-IA is actively involved in developing agriculture in Georgia, and is making investments in this sphere. In the village of Mukhrovani, 12 kilometres east of Tbilisi, a facility is being developed for growing different crops, breeding fish and producing honey.