Georgian policeman killed near the conflict zone
By Temuri Kiguradze
Thursday, September 11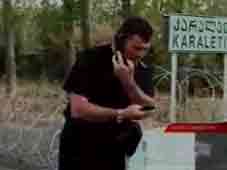 Georgian policeman Kakha Tsotniashvili was badly wounded by shots fired from behind the Russian checkpoint near Karaleti village, close to the South Ossetian conflict zone. He subsequently died shortly after taken to hospital.
According to information from the Georgian Ministry of Internal Affairs, fire was opened by a "group of armed Ossetians" from positions 200 metres away from the Russian post. The Ministry states that the Georgian side did not respond to the gun attack.
Speaking to local journalists, the head of the regional police said that Russian troops have strengthened their block post near Karaleti and refuse to let Georgian law enforcers enter the territory to investigate this case of murder. There has been no comment from Russia on the incident as yet.
The Georgian Ministry of Foreign Affairs has made a statement accusing Russia of disregarding its commitments to establish peace in the region. "This incident provides yet more proof that the Russian side is continuing to grossly violate the six-point ceasefire agreement," it says. The Foreign Ministry also appeals to international organisations to respond to the incident and "bring the perpetrators to justice."
The agreement signed by Russia and Georgia on August 12 enforced a ceasefire in the Georgian breakaway region of South Ossetia. Since August 12 however Russian troops have placed several block posts in so-called "buffer zones" near the conflict region, including the one in Karaleti. Georgia has declared these posts illegal and claimed that its territory is being "occupied" by the Russian Army.