Investigate and tell the truth, says former Speaker
By Etuna Tsotniashvili
Monday, September 15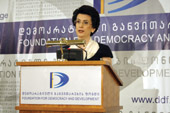 Former Speaker of the Georgian Parliament and President of the Foundation for Democracy and Development Nino Burjanadze considers it inappropriate for the Georgian authorities to claim that Georgia won the war against Russia. According to her Georgia lost this war and what happened will inevitably be investigated.
"I am sorry, but we have not won," she said. "We have been defeated severely in all directions," Burjanadze stated. According to her the main task now is to take correct and adequate steps.
At a press conference held on September 12 Burjanadze demanded a probe into the details of what caused the war. "I consider it very important to hold a serious investigation into what led to those events. The time has come to ask questions." Meanwhile Georgian President Mikheil Saakashvili held a cabinet session on Friday where he stated that the Government is ready to hold a serious investigation about the war. "I welcome the fact that Parliament, the opposition and various groups in society have various questions about Russian aggression and this war and want additional information about many details," the President said. "These questions are absolutely fair and all of them should be answered. We should be ready to answer them," He added.
Burjanadze highlighted that the most important question is whether the Government could have acted in other way and if there had been a chance to avoid a war. "We know that [de facto president of South Ossetia] Kokoity opened fire on Georgian villages; we know that Russia did not do anything to stop this shooting. But we are interested in whether it was possible to avoid a further escalation," Burjanadze said. According to her, today Georgia is in a much more dangerous and tense situation than it was 10 years ago. She is sure that reconciling Georgia's breakaway territories to Tbilisi will be difficult but hopes that the time will come when Georgians, Abkhazians and Ossetians will find a common language.
Burjanadze claims that the solution can be found if the Government tells the population the truth and each question is answered. "There is a need for objective information and the analysis of those things which occurred, because avoiding problems is possible precisely through analysis," she said.
Burjanadze also spoke about democracy and said that democracy and a free media are important for society as they enable members of the public to make their own analyses. "If we refuse to take all these steps, we will lose the support of the West because they support Georgia because they consider it as a defender of the same values which are very important for them," Burjanadze said.
Burjanadze, once a close ally of President Saakashvili and co-author of the Rose Revolution, resigned before the Parliamentary election held in May 21, 2008 due to some disagreements connecting election lists with Saakashvili. After a two month sabbatical from public life Burjanadze appeared again and set up the Foundation for Democracy and Development in July.
At the end of the news conference, at which she answered questions from Georgian as well as foreign media, she revealed her intention to found a new political party, although she did not give further details.