NATO-Georgia Commission created, but still no accession date given
By Temuri Kiguradze
Tuesday, September 16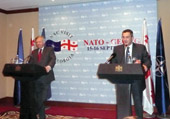 NATO General Secretary Jaap de Hoop Scheffer and representatives of the Georgian Government signed an agreement to create a NATO-Georgia Commission in Tbilisi yesterday.
"This is an important agreement which presupposes a transition to new, more intense relations between Georgia and NATO," said Scheffer at the subsequent press conference. He said that the agreement will assist Georgia to continue its course of democratic reforms.
Scheffer said that NATO is going to help Georgia become a member, but did not give any possible dates. He announced that the Summit of Foreign Ministers of NATO countries (which will also include Georgia) in December 2008 will analyse the possibility of providing a NATO Membership Action Plan (MAP) to Georgia. He also mentioned that Georgia has to satisfy "certain standards" to get this MAP.
"This is a sign of the strong support of the West for Georgia," said Georgian President Saakashvili at the opening meeting with NATO representatives. "[The NATO-Georgia Commission] will help establish more intense relations between NATO and Georgia and assist the integration of Georgia in NATO in future."
Scheffer confirmed that NATO supports the territorial integrity of Georgia and condemns the recognition of Georgia's breakaway regions of Abkhazia and South Ossetia by Russia and Nicaragua. "We have to demand that Russia renounces this decision," he said. Scheffer also underlined the importance of the fulfilling the terms of the six-point ceasefire plan signed by the Presidents of Russia and Georgia on August 12, as well as the agreement between the leaders of France and Russia that insists upon the withdraw of Russian troops from the territory of Georgia by October 15.
The Head of NATO, accompanied by 26 Ambassadors of NATO member countries, arrived in Tbilisi on September 15. Their visit will last for two days and will include meetings with members of the Georgian Government and representatives of the opposition and non-Governmental organisations. The delegation will also visit the city of Gori, which suffered considerable damage due to bombing by Russian warplanes.
The Ambassador of the USA to NATO, Kurt Volker, has stated that the current priority of NATO is providing humanitarian and economic help for Georgia. "We have tens of thousands of displaced persons as a result of Russian military aggression. First things first – we have to provide humanitarian assistance and stabilize the economy," said Volker. He also talked about possible military assistance to help rebuild the Georgian Army after the August conflict.
"Joining NATO is necessary for Georgia because it has Russia as an aggressive neighbour," said Georgian MP Paata Davitaia, talking to the local journalists on September 15. He also said that the security of Georgia is important for the security of Europe as a whole.