NATO promises assistance to Georgia – Russia worried
By Temuri Kiguradze
Wednesday, September 17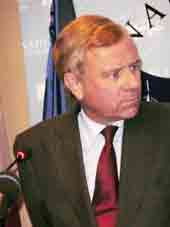 NATO Secretary-General Jaap de Hoop Scheffer has stated that NATO is going to help Georgia "not only with words but with actions too."
Scheffer talked about the assistance that would be provided by the bloc to help Georgia solve its current problems. "The doors of the alliance are wide open for Georgia," said Secretary-General whilst meeting Georgian students in the Tbilisi State University on September 16. Scheffer once again appealed Moscow to revoke its recognition of the two Georgian breakaway regions Abkhazia and South Ossetia. He called this decision "a mistake" and stated that NATO supports Georgia's territorial integrity.
According to Scheffer NATO is not going to stop its Eastward expansion despite the negative reaction from Russia. "This process [NATO expansion] has a concrete goal – to establish stability and democracy in Europe based on the principle of the territorial integrity of each country," he said, adding that "I want to tell you [the students] a secret: at this stage, all 26 members of the alliance are sure that Georgia will become a member of NATO after a certain period." He underlined that Georgia has to continue its reforms in order to "meet democratic standards," and should it do so it "will be able to foster greater consensus among NATO allies on the timing of its entry into the MAP process and eventual membership of NATO."
Russian newspaper Kommersant has published a statement by Russian Foreign Minister Sergey Lavrov concerning NATO's plans to provide economic and military assistance to Georgia. This assistance "means only one thing – no lessons have been learned from the recent events," said Lavrov, referring to the August conflict in South Ossetia. "What has happened in Tbilisi and what has been discussed there has no meaning for us. We will be guided by our responsibilities, taken after the agreements with Abkhazia and South Ossetia and the agreements with the EU," he said. Kommersant has also published a statement from Russian Foreign Ministry spokesperson Andrey Nesterenko concerning the visit of the NATO delegation to Tbilisi. "This sort of act, showing sympathy and solidarity with Georgia, forces us to draw serious conclusions," said Nesterenko, promising that the Ministry would make a "resume" of the visit, after the delegation leaves Georgia on September 16.
Popular Russian daily Novye Izvestia has published comments made by Russian political experts concerning the visit of the NATO delegation to Georgia. "The Secretary-General of NATO just wanted to please the Georgians. His statements can't be taken seriously," says political analyst Sergey Karaganov. Karaganov is sure that Georgia will not be accepted into NATO because of the "hot spots" on its territory. Another Russian expert, Aleksander Konovalov, says that NATO and the EU will support Georgia in this situation due to Russia's decision to place more than 7,000 soldiers on the territory of Abkhazia and South Ossetia. "The EU and NATO will demand the withdrawal of these forces in future, and maybe this question will even be raised in Geneva on October 15," he says.
Answering the question about what kind of changes will occur in NATO policy towards the Russian Federation Scheffer stated "No, punishing Russia is not the way forward. The way forward is to help Georgia. Your country is located where it is – it cannot pack up and move to a quieter part of the world. Ultimately, Georgia and Russia will have to co-exist. But this will only work if Georgia is sufficiently confident, stable and secure – and seen as such by all its neighbours. And we in NATO want to help Georgia move forward again in that direction."