Russia accuses NATO of restarting the Cold War
By Temuri Kiguradze
Thursday, September 18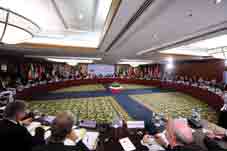 The visit of the NATO delegation to Georgia on September 15-16 and its decision to assist Georgia showed that the bloc still has "Cold War reflexes," says a statement made by the Russian Foreign Ministry on September 17. The Ministry considers that the visit of the NATO Secretary General and 26 Ambassadors was "untimely" and "not corresponding to the interests of the stability in the region." "Any step taken to raise the level of NATO-Georgia relations cannot be considered as anything other than a way of supporting Georgia to have another adventure," says the statement.
Russia considers the visit of Jaap de Hoop Scheffer to Gori, the Georgian town bombed by Russian warplanes, as "an action with anti-Russian intent" and it advises Scheffer to visit Tskhinvali to see "the tragic consequences of the nighttime shelling of civilians by the Georgian Army."
Along with criticizing NATO Russia continues to support the Georgian breakaway provinces of Abkhazia and South Ossetia. According to Russian news agency
RIA Novosti
the de facto Presidents of the separatist Republics have signed an agreement "on friendship and cooperation" with Russia on September 17. Under the authority of this document Russia will place more than 7,000 soldiers in the two regions. Russia recognized these territories as independent states on August 26, but this action has been condemned by the international community, including the UN and the EU. Georgia has declared Abkhazia and South Ossetia to be occupied Georgian territory.
President of Georgia Mikheil Saakashvili has stated that the visit of the NATO delegation and the creation of a NATO-Georgia Commission are a "step forward for Georgia" which shows that "the West will not leave Georgia to be isolated." The NATO-Georgia Commission is a permanent organ which was created in Tbilisi on September 16. According to agreements signed by the founders of the commission, NATO will provide Georgia with humanitarian, economic and military assistance.