Lavrov: NATO is playing a dangerous game
By Temuri Kiguradze
Friday, September 19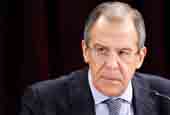 Russian Foreign Minister Sergey Lavrov has accused the West of trying to help Georgia start a new war in its breakaway regions of Abkhazia and South Ossetia.
"We have information that some Western protectors [of Georgia] are ready to prepare terrorist-saboteur troops for the continuation of the fight for the restoration of so-called constitutional order in Georgia," said Lavrov in a statement televised by Russian TV channels. The Minister underlined that the danger of the "remilitarization" of Georgia was one of Russia's reasons for recognizing the independence of Abkhazia and South Ossetia on August 26. "We all saw the demonstrative NATO council meeting held in Tbilisi. I think it's playing a very dangerous game, and if no one has drawn any conclusions from the actions of this [Saakashvili] regime and the way it utilizes the assistance it is receiving, this seems very sad to me," he said.
Sergey Lavrov also confirmed that Russia intends to deploy Russian regular troops in the breakaway regions. "What is happing inside Abkhazia and South Ossetia no longer has anything to do with peacekeeping operations," he told journalists in Moscow on September 18. "[Russian] military bases will be established there and the Russian Federation's military contingent will be based there in response to a direct request from the legally elected authorities of these two sovereign states," he said.
"We have seen a lot of Russian military bases opened abroad, but after some time they all close and the soldiers go home," stated Georgian State Minister on Reintegration issues Temur Iakobashvili. He said that the goal of the Government was to make Russia leave Abkhazia and South Ossetia, which have been declared "occupied territories" by the Georgian Parliament. "Our weapon is international diplomacy now," said Iakobashvili, talking to local journalists. He added that Georgia is going to achieve this goal my peaceful means only.
The head of the Georgian Parliament's Eurointegration Committee, Davit Darchiashvili, has said that the Lavrov statement is another attempt by Russia to "excuse its aggression" under the pressure of "the condemnation of the international community." "The country has a right to resist the occupiers under international law," says Darchiashvili, as quoted by the Georgian Public Broadcaster.
William Burns, Under Secretary of State for Political Affairs of the US, speaking at a U.S. Foreign Relations Committee session on September 17, said that "serious miscalculation" by the Georgian side was one of the reasons for the deadly clashes in South Ossetia in August. "The causes of this conflict – particularly the dispute between Georgia and its breakaway regions of South Ossetia and Abkhazia – are complex, with mistakes and miscalculations on all sides," he said. "But key facts are clear: Russia's intensified pressure and provocations against Georgia – combined with a serious Georgian miscalculation – have resulted not only in armed conflict, but in an ongoing Russian attempt to dismember that country," stated William Burns, quoted by Georgian online source Civil Georgia.
The August conflict in South Ossetia killed more than 300 hundred people from the Georgian side, according to official data. The Russian Government has declared that 1,600 Ossetians and about 100 Russian soldiers were killed. On August 12 a ceasefire agreement was signed by the Presidents of Georgia, Russia and France as a mediator.
According to some Georgian political commentators, the accusation that Georgia is preparing terrorist-saboteur groups is part of a plan by the Russian Government to provoke Georgia by making both its leaders and people out to be "Georgian terrorists."