Your figures donít add up, say opposition
By Sopo Datishvili
Wednesday, October 1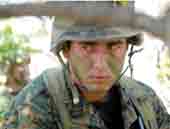 The Ministry of Defence has published the list of soldiers killed or declared missing as a result of the Russian-Georgian war, based on data gathered by September 25.
The first part of the list gives the names of the 115 soldiers known to have been killed. 9 of these were reservists, 96 corporals or sergeants, 1 a private and 1 a civilian. The second part gives the details of 54 soldiers whose identities have still not been established, who are buried at the Mukhatgverdi cemetery. According to the data released on September 15, 168 Ministry of Defence personnel, that is, the current figure minus one, had died.
The Ministry of Defence claims that the official list of dead soldiers has been checked several times, but the opposition is still sure that the Government is manipulating the figures and using the 54 unknown soldiers buried in the Mukhatgverdi cemetery to do so. The list was the main theme of the Conservative Party briefing last week. Party leaders accused the Government of hiding the actual number of dead soldiers from the public. They maintained that the actual figure was much bigger then the official one. In response, the Ministry of Defence explained that DNA tests had not yet been finished and they would publish the full list as soon they were completed.
The Republican Partyís Davit Zurabishvili says that as he hasnít seen the official list of dead people, he cannot make any comment about it as yet. He says however that he has also heard rumours about the number of victims being shrunk. Zurabishvili agrees with the Conservatives that the Government is hiding the true number of casualties. Labour Party leader Soso Shatberashvili says that if we add a nought to the published figure (169), we might get something like the true one. He is also demanding that the Government adds to the list victims who were citizens of Georgia but lived in South Ossetia.
Military expert Irakli Aladashvili finds it difficult to make any comment on the opposition statements. He thinks the theme is very sensitive for the families of dead soldiers. He excludes the possibility that the number of victims is several times higher than that given. ďThe best resolution of the problem in time will be the publishing of the final and complete list,Ē Aladashvili told
The Messenger
.