Georgia claims another Russian drone has crashed
By Messenger Staff
Thursday, October 2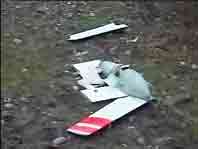 A Russian unmanned aerial vehicle (UAV, or drone) has crashed near the border of the South Ossetian conflict zone, according to a statement made by the Georgian Interior Ministry's Shota Utiashvili during a televised meeting in Tbilisi on October 1. Utiashvili denied that Georgian Air Defence forces had shot down the drone. "It seems it crashed due to technical problems, it happened without our [Georgian] interference," he said.
The Interior Ministry states that the plane crashed near the village of Odzisi in the Akhalgori region, close to the territory of breakaway South Ossetia. The incident happened on September 30, at 17.00 Tbilisi time. The Interior Ministry also states that the drone was equipped with a photo camera and was conducting reconnaissance of Georgian police positions in the region. However Russian officials deny that they have lost a drone. "I don't confirm this information," said the Head of the Russian peacekeeping force's Press Centre Vitaly Manushko, as quoted by Russian news agency
Interfax
.
On September 23, Shota Utiashvili had stated that another Russian reconnaissance drone had been shot down between the villages of Khurvaleti and Tsitelubani, also near breakaway South Ossetia. He said that that drone had presumably been conducting reconnaissance of the Baku-Supsa oil pipeline. Russia, however, has denied losing this drone too.