US taking Georgia under economic protection
By Messenger Staff
Thursday, October 2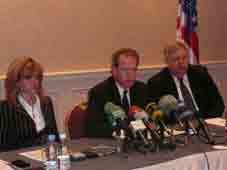 It looks as if the USA has decided to take Georgia's economy under serious protection, through granting it a preferential trade regime which would enable Tbilisi to export its production to the US.
On October 1 the US-Georgia Trade and Investment Council regular session took place in Tbilisi. From the US side it was chaired by Ambassador John K. Veroneau and from the Georgian side by the Minister for Economic Development Ekaterine Sharashidze. The session considered a number of different issues, among the most important being granting Georgia a GSP (Generalized System of Preferences), which would exempt it from the usual rules of the World Trade Organisation. This would give the country preferential terms for entering the US market tax free. The products which could be exported under the terms of this GSP would be mainly items such as different types of wine, nuts, fruit, vegetables, processed food, juice, non-alcoholic beverages and many more.
The session outlined the necessity of starting consultations for concluding a US-Georgian free trade agreement. Amending the existing agreement which would both protect and encourage US investment in Georgia. The US Department of Commerce has taken the initiative to organise a US-Georgian investment summit in Tbilisi on October 27 of this year. The session also discussed Georgia joining the world wine traders group. The current members of this group are the USA, Canada, Argentina, South Africa, Australia, New Zealand and Chile. Membership would improve Georgia's capacity to widen the geographic range of its wine exports.
John K. Veroneau and Ekaterine Sharashidze held a press conference after the event.