Swiss Embassy steps into the breach
By Mzia Kupunia
Tuesday, October 7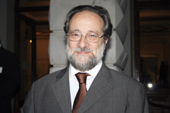 Switzerland will represent Russian diplomatic interests in Georgia, following a request by Moscow, the Russian Foreign Ministry reported on October 3. According to its statement, as the Embassies of Georgia and Russia in each other's countries are officially closed, it has become impossible to settle some consular and humanitarian issues. The statement says the decision to ask Switzerland to represent Russia in Georgia was made to minimize the negative results of closing down the Russian Embassy in Tbilisi. "This will allow us to maintain the necessary interstate and consular contacts in the interests of Russian and Georgian citizens," the statement reads. In a communication from Bern, the Swiss capital, the Federal Council (Government) of Switzerland, on October 3, positively responded to the Russian request.
The Russian Embassy was shut down on September 3, when Georgia officially notified Russia that it was cutting all diplomatic ties with it following the August conflict. Russian Embassy staff left Tbilisi last Tuesday, a month after the Embassy was closed.
Swiss Ambassador Lorenzo Amberg said that Switzerland had agreed to represent Russia in Georgia in order to defend the interests of the citizens of both countries. "Our aim is to create a legal and diplomatic framework in which to continue a minimum of consular services for the citizens of Georgia and Russia. It is very much in the interests of both countries," Amberg said. "This framework is provided for in Art. 45 of the Vienna Convention of Diplomatic Relations of 1961", he added.
The Ambassador said that being a neutral country helped the Government of Switzerland to make this decision. "We can render this service because we are a neutral state and do not imply taking sides in favour of any country. We enjoy the trust of the Governments and the citizens of both countries," Amberg said.
The Swiss Embassy says it has already received numerous enquiries from Georgian citizens seeking to obtain Russian visas. However the Ambassador says that issuing visas is not possible at present, as negotiations are continuing between Moscow and Bern about which services will be provided. "There is a chance that the former Russian Embassy will work formally as a "filial" of the Swiss Embassy with a special sign saying "Section of Russian Interests." This is how it works in other countries. However no decisions have been made so far. All sides are interested in quickly defining the modalities of this co-operation. We need some time and patience," Ambassador Amberg said.
Protecting foreign interests in a foreign country has long been a Swiss tradition. According to the Swiss Embassy Switzerland is currently carrying out several such 'protecting power' mandates, including representing the interests of the USA in Cuba and Iran and the interests of Cuba in the USA and in Egypt.