Progress on Russian troop withdrawals
By Temuri Kiguradze
Tuesday, October 7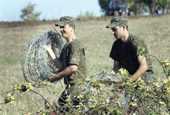 Russian troops have begun to leave Georgian territory. According to the EU monitoring mission, Russian forces have dismantled a checkpoint in the village of Ali, northwest of the Georgian town of Gori,
AFP
reports. Signs of withdrawal have also been observed in several villages along the Abkhaz administrative border, namely Urta, Ganmukhuri, Kveda Chkhorotsku and Kanti, Georgian media sources report. Preparations for a troop pull-out were also seen in the Sachkhere district, to the west of breakaway South Ossetia.
According to the agreement signed between Russia and EU, Russian troops are obliged to leave Georgian territory by October 10. This process will be monitored by EU military observers who began their mission a week ago.
According to a plan agreed by the European, Russian and Georgian authorities, the Russians were obliged to leave the village of Nadarbazevi today. They began the process of dismantling the checkpoint there yesterday. They pulled down their flag, dismantled their post infrastructure and filled their entrenchments with earth. However, Russians still control the 12-kilometre long security zone and 17 villages in the Kareli region. Illegal checkpoints are still operating in the villages of Karaleti, Variani and several sectors of the Gori-Tskhinvali highway. Georgian TV channel
Rustavi 2
also reported yesterday that the EU monitors had arrived in the village of Kvena Tkotsa but were still waiting for the Russians to close their illegal checkpoint. In that village they are delaying the process of pullout.
Despite the beginning of a Russian withdrawal from Georgia proper, the situation in the regions close to the conflict zones is far from stable. An Abkhaz border guard was killed in a shooting incident in the village of Nabakevi close to the administrative border on October 6,
Apsnypress
news agency reported. Laurens Kogonia, the chief of the Abkhaz police in the Gali district, named the victim as Mukhran Ashuba. According to Russian news agency
Interfax
, several hours after this incident Russian troops moving on a road near the Inguri reservoir were targeted in a bomb attack. The agency has no information about the wounded, but Alexander Novitsky, deputy head of Russian peacekeeping troops in Abkhazia, said that EU monitors observing the troops withdraw witnessed the attack.
Also on the night of October 6, the village of Pakhulani, likewise near the administrative border of breakaway Abkhazia, was shelled by rocket launchers. Georgian media reports that the attack came from the Abkhaz side. It is also reported that three of the five blasts were near the local kindergarten and the school. Children were evacuated from the location. No casualties were reported.