A little bit more returns to Georgia
By Temuri Kiguradze
Wednesday, October 8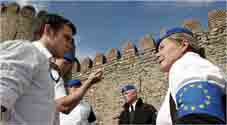 Russian soldiers are leaving their checkpoint in Karaleti village, near the Georgian town Gori, close to the border with Georgian breakaway region South Ossetia.
According to local media reports the Russians have taken away the concrete blocks which were used to obstruct the movement of transport through the village. Constructors are clearing up the roads. Every traffic sign which indicated the location of the checkpoint has already been removed.
Although the withdrawal appears orderly, the Georgian media is reporting incidents which are occurring while it is taking place. Rustavi 2 TV has stated that Russian soldiers have distributed proclamations in the Georgian region of Samegrelo "in which they threaten the local population that Russia will topple the Georgian Government anyway and that the nation had better elect Nino Burjanadze." Burjanadze is a former Chair of the Georgian Parliament who left politics before the August conflict, but has recently addressed the Georgian Government demanding explanations for the start and consequences of the Georgian-Russian war.
Another incident occurred in the town of Tsalenjikha, were drunken Russian soldiers assaulted peaceful residents, breaking down gates and fences with their tanks. This allegedly planned assault occurred after the occupiers had had a dispute with locals.
These small incidents were preceded by a series of explosions and assaults in both Georgian breakaway regions, Abkhazia and South Ossetia. Commenting on these, the Russian Foreign Ministry accused Georgia of "provocation" and an attempt to hinder the "peaceful" withdrawal of Russian troops from the occupied Georgian territories. "We get the impression that certain forces in Tbilisi, which are against the normal and smooth transfer of functions from Russian peacekeepers to EU monitors in the security zones around South Ossetia and Abkhazia, are deliberately aggravating the situation in the region and are trying to provoke new military actions through a series of terrorist acts," the Russian Foreign Ministry said in a statement published on October 6. Georgia has denied the claim.
Russian military forces should leave the territory of Georgia by October 10, under the terms of the agreement signed in Moscow by the Presidents of Russia and France. Russian troops are being replaced by an EU monitoring mission which has already started working and observing the process of the withdrawal. Marat Kulakhmetov, head of the Russian peacekeeping forces, interviewed by Russian news agency
Interfax
, said that "all six checkpoints on Georgian territory will be removed on October 8."