Art Camp makes art even greater
Thursday, October 9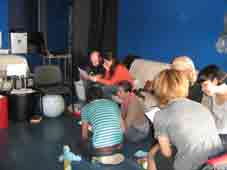 The Institute of International Visual Arts and the British Council has hosted nine artists from Armenia, Azerbaijan and Georgia, living and working together in a structured programme. All those concerned have declared the venture a great success.
Art Camp facilitators Gayle Chong Kwan, Monica de Miranda and Teresa Cisneros have declared themselves to be fully inspired by the atmosphere of the Kikala Studio and Georgian autumn. The young artists really proved the importance of the concept of living together and that identity, culture and art are much more important than any political border, map or world order.
The camp programme began with warm up activities which really fostered a good atmosphere. The imaginary house building session was very impressive indeed, being about displacement, migration and creativity at the same time. Everybody agreed that building a house for everyone to live in, and equally participating in this process, made them feel more familiar with the problem of migration and how a global understanding of the problem is important.
When the participants presented their works it was evident that the young artists in all three countries had the same attitude and same pain towards displaced and homeless people. Photos of the displaced had been taken, at different ages in different places with different feelings on people's faces, but the message was clear - the world is one, and living together is more important than anything else.
The continuation of the programme gave teachers the chance to become a part of the all-encompassing splendour of visual art. It suggested how to relate art to geography, history and cultural studies as well as the wider curriculum. The success of this will be seen later when teachers implement new concepts in their teaching.
Art Camp once more proved how great visual art is. In November 2008 a huge exhibition is to be held in Tbilisi which will demonstrate the advantages of holding such an event.