Russian Church confirms Georgian Church jurisdiction
By Mzia Kupunia
Thursday, October 9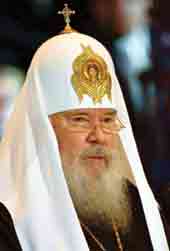 The Russian Orthodox Church has recognized the integrity of the Georgian Orthodox Church by not accepting the Orthodox churches of breakaway Abkhazia and South Ossetia into its ranks at a meeting of the Russian Holy Synod on Monday.
At a regular meeting led by Patriarch Alexei II, the Moscow Patriarchate rejected the breakaway regions' request to admit them to the Russian Orthodox Church. "Accepting the Ossetian and Abkhazian Churches to the Russian Orthodox Church is completely out of the question," said Patriarchate spokesman Father Vladimir Vigilyansky, Russian media reported.
The Russian online daily Kommersant suggests that the Russian Orthodox Church probably made this decision not to lose "almost its last ally in the battle for influence on CIS soil." However the Georgian Patriarchate finds it difficult to speak about any possible political reasons for the Russian Church's actions. Father Mikheil Botkoveli, Secretary to the Georgian Patriarch, said that what the Russian Church did was just obey the rules. "Politics and religion differ from each other. I am not aware of any malign Russian intentions, but it is obvious that Russia avoided making relations more complicated by acting according to existing Church rules," he said.
The Russian Patriarchate has also stressed that stands apart from politics. "Political decisions don't determine issues of Church jurisdiction. These issues should be settled through dialogue between two Churches. The Patriarch has always supported the unity of the Georgian Church," Archpriest Vsevolod Chaplin, the Deputy Chairman of the Moscow Patriarchate Department for External Church Relations, was quoted as saying.
Even though the Patriarchates of both countries deny any links between politics and the Russian Orthodox Church's decision, some individuals think differently. Theologian Andrey Kurayev sees politics behind the Russian actions. He says that the Russian Orthodox Church is afraid to lose its influence in former Soviet Union Countries. "The Russian Church has marked off the Kremlin position," Kurayev said.
Abkhazian and South Ossetian Orthodox churches have sought to leave the Georgian Patriarchate and join the Russian Orthodox Church several times before. Father Vissarion, the Head of Abkhazian Orthodox church, considered that the non-recognition of them as independent republics has been the stumbling block. Abkhazia and South Ossetia expressed their wish to withdraw from the Georgian Orthodox Church once again last summer, when tensions mounted between Georgia and its breakaway regions. Though de jure part of the Georgian Orthodox Church, no Georgian priests serve there and services are conducted in Russian.