Georgia still a popular destination
By Sopo Datishvili
Friday, October 10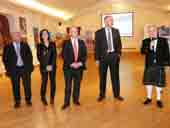 On October 7 TBC bank hosted a reception for the participants of a tour entitled "Georgia as a tourist destination," arranged by the British-Georgian Chamber of Commerce (BGCC), which involved journalists and tour operators from the UK. The aim of the tour was to promote the tourism business in Georgia.
The reception hosted by TBC was opened by the Ambassador of the UK in Georgia, Denis Keefe, who spoke about the strong commercial ties between the two countries. He hoped that most of the guests in the hall had already experienced how beautiful the country was.
After the official part of the event, Director of GBCC Godfrey Cromwell said he was amazed by the sightseeing and culture in Georgia, and believed the country had great potential to become one of the most popular tourist destinations in Europe. "I'd rather come here than any other European country. You have such a deep culture, magnificent landscapes and hospitable people. Even your strange language is very interesting," Mr. Cromwell said.
Among the guests was the Director of the British Council in the South Caucasus, Paul Doubleday, who was sure that in spite of the August events, the charm of Georgia for tourists hasn't decreased. "The most important challenge for the country is to show that in spite of everything it is moving forward," Mr. Doubleday added.
The tour operator of British company Cox & Kings, Cecilia Ban, told The Messenger that in spite of the frustrating events in August, the tourist interest in the country is the same as before. She said that people visited Georgia even during the war. Ms. Ban is sure that the tourist potential of the country remains very big.