Russia has partly met its commitments, says French Foreign Minister
By Mzia Kupunia
Monday, October 13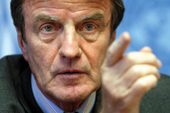 Russia has met its commitments, "but partially," French Foreign Minister Bernard Kouchner has said during his fourth visit to Georgia since the August conflict. Kouchner, who had been actively involved in international negotiations during the Georgian-Russian war, visited the areas affected by the Russian occupation and talked to the local population on October 10.
"The whole of Europe is with you," Kouchner told the villagers of Tkviavi, a Georgian village in Gori region, badly damaged by military action and looters. "Not everything has been achieved," he said at a joint press conference with President Saakashvili in Batumi, "the Russians have left most of the territory they occupied, but they remain in Akhalgori and Perevi. That's why we will continue holding talks in Geneva," the French Foreign Minister added.
Meanwhile, Russian President Dmitry Medvedev has said that Russia has fully met all the commitments envisaged in the six-point ceasefire agreement. "We have met all the obligations we undertook in the first document, the Medvedev-Sarkozy Plan, and the second document, which was agreed on not long ago in Moscow," Medvedev said, speaking at the CIS summit in Bishkek.
The President of Georgia, Mikheil Saakashvili, has claimed that the process of Russian pullout is not over, and insisted on the reinstitution of the prewar situation. Saakashvili said this would be discussed in Geneva. "We have not returned to the August 7 status quo ante and we plan to work over this issue with French and other partners during the Geneva talks," the Georgian President said. International negotiations, initiated by France, on regulating the Georgian–Abkhazian and Georgian-Ossetian conflicts will be held on October 15 in Geneva. The Sarkozy-Medvedev agreement is to be discussed at the meeting, attended by both Georgian and Russian sides, as well as foreign experts.
During his two day visit to Georgia, the French Foreign Minister also met former Parliament Speaker Nino Burjanadze. Kouchner and Burjanadze, who is currently the President of NGO the Democracy Development Fund, talked about the upcoming meeting in Geneva as well as the necessity of restoring Georgia's territorial integrity, normalizing the political situation in the country and the Georgia's further democratic development. Before leaving for France Kouchner also met representatives of Georgian opposition parties, who according to their leaders have agreed to act jointly against the Russian aggression.
Bernard Kouchner will present his report on the current situation in Georgia to the EU session in Luxembourg on Monday.