One flew over Georgian sovereignty
By Temuri Kiguradze
Wednesday, October 15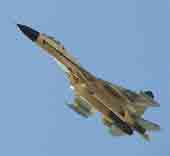 Five Russian planes have violated the airspace of Georgia, the Georgian Foreign Ministry stated on October 13. The Georgian Foreign Ministry has appealed the international community to "take urgent measures to prevent Russian aggression targeted against the State of Georgia," in response to these violations.
The Ministry's statement, published on its official webpage, says that the aircraft entered the country from the direction of the Java district of breakaway South Ossetia. "At 9:57 two aircraft crossed Georgia's state border with Russia in the Stepantsminda district, penetrated 18 kilometres into the territory of Georgia and departed at 10:01 from the border of the Java district (in the vicinity of the Roki tunnel) in the direction of the Russian Federation. Between 10:29 and 12:27 three military aircraft flew 45 kilometres into the territory of Georgia (from the direction of Mkinvartsveri and Stepantsminda), passed several times over the districts of Oni, Sachkhere, Java, Tskhinvali and Stepantsminda and afterwards left the airspace of Georgia," says the statement.
The Ministry's information has been supported by radar data published by the Ministry of Defence, showing the course and time of the flights. The Georgian side considers this incident to be "an incursion of Russian military aircraft into Georgia's sovereign airspace" which "indicates that Russia continues its aggression against Georgia." This is in fact the third time since the August conflict that Tbilisi has announced that Russian aircraft have violated the country's borders. On September 23 the Georgian Interior Ministry reported that a Russian unmanned air reconnaissance vehicle (drone) had been shot down near the administrative border of South Ossetia. On October 1 it stated that another Russian drone had crashed in the same area.
Russia made no comment in response to previous allegations, and there has been no official reaction on this occasion either. However Russian politicians, talking to Georgian journalists in Moscow on October 14, have stated that there has been no violation of Georgian airspace. "These flights were conducted on the territory of Abkhazia and South Ossetia, which we consider independent republics," said Russian MP Gennadi Gudkov. "The Georgian side can accuse Russia as long as it wants, we don't consider this to be a violation of Georgian airspace. We have signed an agreement with the Abkhazians and Ossetians which allows us to conduct these flights, it's strange that the Georgian Government is not aware of it," stated Gudkov. Another Russian MP, Viktor Ilyukhin, has accused Georgia of the "violation of Abkhazian and South Ossetian airspace" and conducting reconnaissance operations in the territories of the breakaway regions. "Georgia, with the help of the Americans, observes Abkhazia and South Ossetia with satellites," said Ilyukhin, as quoted by Georgian TV station Imedi.
The Russian Federation recognized the independence of Georgian separatist territories Abkhazia and South Ossetia on August 26, soon after the conflict which led to the occupation of Georgian territory by Russian troops. This recognition has been condemned by the international community.
President of the USA George W. Bush has made a statement supporting Georgia at a press conference in Washington. "To earn the respect of the international community, Russia must show respect for the sovereignty and territory of its neighbourhood," said the American President. Whilst talking to visiting Italian Prime Minister Silvio Berlusconi on October 13, Bush said that the United States and Italy were "working closely to end the conflict in Georgia." "We firmly support Georgia's democracy, sovereignty and territorial integrity," he continued. "The United States and the EU agree that the territory of Georgia includes the regions of Abkhazia and South Ossetia. We're working to meet the humanitarian needs of the Georgian people and help displaced families return to their homes."