Courage and duty
By Messenger Staff
Wednesday, October 15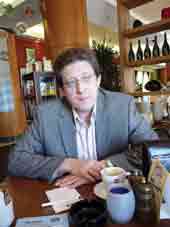 Member of the Israeli Knesset Leon Litinetsky arrived in Georgia on August 10 on his own initiative as soon as the Russian-Georgian war started. His aim was to rescue those tourists from Israel who were stuck in Georgia when the war broke out and to help Georgian Jews living in the conflict zone. But his spiritual inspiration was to stand with his Georgian friends at this difficult time.
He visited Gori just a couple of hours after the Russians had bombed the town. His mission was quite successful. Together with the Israeli Ambassador Itzhak Gerberg he managed to organize the evacuation of more than 500 people from Georgia to Israel on August 12 in four Israeli civil planes.
His next visit was an official one, at the invitation of Georgian Foreign Ministry. On this occasion Litinetsky was a member of an official delegation from the Knesset. The delegation assessed Georgia's need for the humanitarian assistance it had asked for. Particular stress was made on providing Georgia with special housing facilities, such as caravans for those IDPs who will not be able to return home by winter. The assistance envisages around 200 such facilities, worth USD 5-6 million.
Born in 1967 in Kazan, Russia, Leon Litinetsky emigrated to Israel in 1990. He calls himself a self-made man. He experienced hard labour in the initial stages of his career and decided to dedicate himself to improve the living conditions of employees, especially in the private sector. In the Knesset he represents the Meimad party within the Labour alignment and defends the interests and social rights of employees as well as representatives of small and medium-sized businesses.
Mr Litinetsky cooperates closely with his Georgian colleagues, MPs Rusudan Kervalishvili, Lasha Zhvania and others. Among his hosts is Irakli Petriashvili, Chairman of the Georgian Trade Unions. He supports the programme initiated by the chairman of the Georgian Professional Educational and Qualification Staff Trade Union of Workers and Students Daniel Davitashvili to establish a special vocational centre for training and preparing qualified specialists jointly with Israel, the first such centre of its type in Georgia.