Saakashvili appeals to EU leaders for support
By Temuri Kiguradze
Thursday, October 16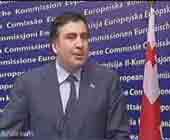 Georgian President Mikheil Saakashvili has called for the support of European leaders at the European People's Party (EPP) summit in Brussels on October 15.
The EPP leaders' summit in Brussels was attended by Heads of State and Heads of Government who are members of national parties belonging to the pan-European European People's Party, a conservative grouping. German Chancellor Angela Merkel, Italian Prime Minister Silvio Berlusconi and the leaders of many other European countries took part. Later on October 15 President Saakashvili was due to attend the EU summit in Geneva, which among other issues was scheduled to discuss the future of EU-Russian relations. The Georgian media had already broadcast that at this summit the European Union would decide to provide 500 mln Euro to help rebuild Georgia after the August conflict.
Speaking after the EPP meeting the Georgian President mentioned the discussions in Geneva. He negatively evaluated their progress, pointing out that Russia has walked out of the meeting. He said that the actions of Russia's representatives "basically mean that Russia has no interest whatsoever in any diplomatic process…If anyone still had any illusion that it was possible to achieve something under these conditions, these should now have vanished." Saakashvili told journalists.
Saakashvili continued by saying, "This is exactly the way the Soviet Union acted in the worst years of the Cold War. This is very regrettable. It will not of course stop the struggle for our independence and territorial integrity, it merely confirms once again what sort of people and what kind of diplomacy we are dealing with. We will continue working with our friends, and partners, we will continue our consistent struggle for Georgia's de-occupation and the withdrawal of Russian troops from the occupied territories." He also mentioned that representatives of Georgia's breakaway regions of Abkhazia and South Ossetia, who are participating in the Geneva discussions as a part of the Russian delegation, are "not politicians," but "criminals" who "are only able to conduct ethnic cleansing."
Speaking in Brussels, the Vice-President of the European Parliament, Jacek Polski, was quoted by Rustavi 2 as saying that Europe would continue to exert pressure on Russia to make it withdraw its troops from the whole of Georgia, "including Abkhazia and South Ossetia."
It has also been announced that the International Court of Justice in The Hague has processed Georgia's claim against Russia which accuses it of a violation of international law by conducting "ethnic cleansing" of the Georgian population on Georgian territory. In its preliminary decision it appeals to both Russia and Georgia to "refrain from racial discrimination" and provide security and humanitarian aid to people who have suffered due to the conflict.