Geneva talks suspended due to "procedural difficulties"
By Mzia Kupunia
Thursday, October 16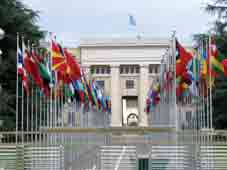 The Geneva talks have been suspended due to "procedural difficulties," and the parties will resume negotiations on November 18, it has been reported. The day long negotiations ended with the Georgian and Russian sides blaming each other for the disruption of the session.
The major issue of disagreement at the talks, which were due to discuss establishing stability and security in the region, returning IDPs to their homes and the complete withdrawal of Russian troops, was the presence of South Ossetia and Abkhazia at the negotiations. The Georgian side claimed the format of the negotiations envisaged the participation of six parties: Georgia, Russia, the USA, the EU, the OSCE and the UN. Russian officials however insisted on involving the representatives of de facto Abkhazia and South Ossetia in the talks.
The talks were closed to the media, and the participants had agreed not to make any comments until the negotiations were over. However information was spread throughout the whole day by different media. The de facto Abkhazian authorities made the first comments. Separatist Abkhazian Foreign Minister Sergey Shamba said that the Georgian side had refused to participate in meetings at which representatives of Abkhazia and South Ossetia were present. Shamba also said he was not happy about the status of his delegation. "Our status does not satisfy us, that's why there was no further meeting. We will take part in the negotiations only as equal participants," Shamba said.
Unlike Sergey Shamba, the acting Prime Minister of separatist South Ossetia, Boris Chochiev, stated that South Ossetia had participated in the talks as an "equal partner, as the Republic of South Ossetia." "We have not even seen the Georgian delegation," he added. The head of the Georgian delegation in Geneva, Deputy Foreign Minister Giga Bokeria, claimed however that Russia had wanted to include its puppet de facto regimes in the negotiations as official parties, but that the Georgian delegation had strongly objected to this. Bokeria said that after not being allowed to include the Abkhazians and Ossetians in the official talks, Russia decided not to attend the plenary session. According to the Deputy Foreign Minister the second "working meeting" should have been attended by representatives of the breakaway regions, however "they refused to participate because they were not considered official."
"Russia should be pressed to meet its obligations," Bokeria added, confirming that Georgia's view is that the international negotiations should continue. He said that Georgia was not in a minority in the negotiations, and that's why Russia started creating problems.
Before the negotiations had been declared suspended, Georgian President Mikheil Saakashvili, visiting Brussels, had said that he had feared this kind of outcome. "Although Georgia was very constructive, although there was an opportunity to hold serious talks with the mediation of EU and the US, the Russians – as I feared and suspected – left the negotiations and walked out," Saakashvili told journalists. Saakashvili added that Russia is not interested in any kind of diplomatic process at this stage.