Spanish Embassy to open in Tbilisi
By Mzia Kupunia
Monday, October 20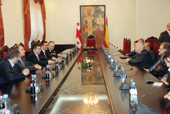 Spain will support Georgia's NATO aspirations and its will to build closer relations with the European Union when Spain takes the EU's rotating Presidency in 2010, the Spanish Foreign Minister Miguel Angel Moratinos said during his two day visit to Georgia.
"Spain is a strict defender of the principles related to Georgia's sovereignty and territorial integrity," Moratinos told journalists, speaking at a joint press conference with his Georgian counterpart Eka Tkeshelashvili on Saturday. "We are ready to assist Georgia to integrate with NATO and the European Union," Moratinos added.
Georgian Foreign Minister Eka Tkeshelashvili stressed the importance of Spanish support for Georgia, saying that "Georgia has the important goal of joining these two organizations, and Spain is ready to help us to achieve this goal. Spain is one of the leading countries in support of Georgia's sovereignty and territorial integrity in the EU and it does everything it can to ensure that these principles are supported and shared by the whole world," she added.
At the meeting between the Foreign Ministers it was also agreed that a Spanish Embassy would be established in Tbilisi. The Spanish Embassy's regional diplomatic mission, with its headquarters in Tbilisi, will cover Azerbaijan and Armenia as well, the Georgian Foreign Ministry reported.
Miguel Angel Moratinos also met Georgian Parliament Speaker David Bakradze. The two discussed the postwar situation in the country. Bakradze said he informed Moratinos about the work of the Commission studying the August events. The sides agreed on cooperation in the political, economic and cultural spheres.
After further meeting Georgia's President Mikheil Saakashvili and Prime Minister Lado Gurgenidze, Moratinos, together with the Head of the EU Monitoring Mission, Hans-Jorg Haber, left for Poti to visit the EU Monitoring Mission field office, where the Spanish observers are based. Moratinos said that the aim of this visit would be to observe the work of the EU monitors and see whether the Medvedev-Sarkozy agreement is being implemented. He said all the obligations specified in the six-point agreement must be met.
"In this respect the situation is much better now than it was at the beginning of September. Two months after the military aggression the observers came to Georgia and the Russian troops withdrew from the buffer zones. However we should continue our effort, and the EU will continue with discussions about deploying observers in Abkhazia and South Ossetia," the Spanish Foreign Minister said after the visit. After Poti, Miguel Angel Moratinos left for Turkey.