Davitaia says further aggression is coming
By Temuri Kiguradze
Tuesday, October 21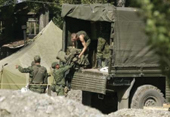 Paata Davitaia, Head of the Georgian Parliament's Commission of Investigation into the Russian-Georgian conflict in August, says that Russia is preparing for a new military operation against Georgia.
"All the recent actions of Russia, including the shootings in the Gali and Akhalgori regions, the violations of Georgia airspace and the statements in Moscow, indicate that Russia is going to conduct another provocation against Georgia," said Davitaia on October 20, speaking to the Georgian media, adding that he believes Georgia needs to tell the international community about this threat.
Davitaia's view was partly supported by independent Russian political analyst Andrey Illarionov. "The [Georgian-Russian] war is not over yet. Without any doubt it will have a continuation. I would say that the Russian troops which are still located on the territory of Abkhazia and South Ossetia, in violation of all international agreements and the ceasefire plan, serve as a knife at Georgia's throat," said Illarionov, who used to work as a political adviser for Russia's ex-President Vladimir Putin, at a press conference in Moscow.
The situation near the conflict regions was tense all last week. Several shellings and shootings took place near the borders of Georgian breakaway regions Abkhazia and South Ossetia. The Georgian Foreign Ministry reported five cases of Russian aircraft illegally entering Georgian airspace.
On October 19 Abkhazian separatist troops blew up the bridge connecting Abkhazia and another Georgian province, Samegrelo. Russian troops which were obliged to leave Georgian territory by October 10 under the ceasefire agreement remain in the Akhalgori and Kodori Gorge districts.
In a move likely to cause further tensions, Russian President Dmitry Medvedev has asked the Russian Parliament to ratify Russia's agreements on "friendship, cooperation and mutual assistance" with Abkhazia and South Ossetia on October 20. Both breakaway regions were recognized as independent states by Russia in late August. Under the terms of these agreements Russian military bases will be placed in Abkhazia and South Ossetia, with a complement of 3,800 soldiers. De facto President of Abkhazia Sergey Baghapsh has welcomed this, as he considers that Russian soldiers will provide Abkhazia with protection from the "hotheads" in Georgia. "The number of Russian troops will deter anyone from attacking Abkhazia and killing the peaceful population," said Baghapsh, quoted by Russian newspaper
Kommersant
. He also mentioned that a Russian base will be established at the former Soviet military base in Gudauta, and added that he was ready to provide the Abkhazian seaside town of Ochamchira for the use of Russian military vessels.
Asked about the possibility of EU military monitors conducting peacekeeping operations on the territory of the breakaway region, Baghapsh said that talks about that were just "speculation favourable for Georgia." 200 military monitors from the European Union have replaced Russian troops which entered Georgia during the August conflict. The EU and Georgia have several times requested that Russia let these monitors enter Abkhazia and South Ossetia, but have always been refused. The separatists have however stated their dissatisfaction with the EU monitors. De facto President of South Ossetia Eduard Kokoity has said that one of the reasons that the South Ossetian separatist Government ordered all its block-posts to open was to be able to "answer fire in the case of shootings from the Georgian side," something the monitors would be obliged to prevent, and described their attitude as "tendentious."
Kokoity also welcomed the Russian military presence in South Ossetia. Interviewed by Russian news agency
Kommersant
on October 20, he said that he thought that military bases were the only way South Ossetia could be protected from Georgia. "There will be as many military bases [in South Ossetia] as needed. Soldiers and officers on our territory will be given all the conditions to make it feel like home," he said. The Russian Foreign Ministry has stated that it is aware that the West considers the building of the military bases in Abkhazia and South Ossetia illegal, but Russian Foreign Minister Sergey Lavrov, talking to Russian journalists, added, "We have already heard this kind of evaluation and have explained many times that our actions are based on international rights and we have no other way to provide security."
Georgian independent political analyst Ramaz Sakvarelidze said that Davitaia's statement was not surprising to him. "This kind of talk is quite popular among Georgian politicians and experts. I would say that there have been some events which could provide a basis for it, including the violation of the agreements between Georgia and Russia concerning the withdrawal of the troops. Russia is not the kind of country whose actions can be explained logically," said Sakvarelidze, speaking to
The Messenger
.