Abkhazia will not discuss the return of Georgian refugees
By Temuri Kiguradze
Wednesday, October 22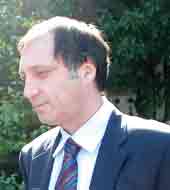 The so-called Foreign Minister of Georgia's breakaway region Abkhazia, Sergey Shamba, has stated that it's impossible to even start negotiations about the return of Georgian refugees to Abkhazia, except for those from the Gali district and Kodori Gorge.
"At this stage, under the conditions of constant tension and confrontation created by the Georgian side, it's not possible to discuss the return of Georgian refugees to other regions of Abkhazia," stated Shamba at a meeting with a group of experts from the OSCE's Office for Democratic Institutions and Human Rights (ODIHR) in Sokhumi on October 20, as quoted by Abkhaz news agency
Apsnypress
.
About a month ago the leader of the Abkhazian separatists, Sergey Baghapsh, made a similar statement, saying that the return of Georgians to Abkhazia might cause a "new war." "If I tell you that we will let one hundred thousand refugees into Abkhazia in one go, I will be telling you a lie. We will not do this, as we seek to ensure that another war will not start," said Baghapsh, quoted by
BBC Russia
. He also said that only those who would agree to live "according to laws of our Republic" would be able to return.
During the 1992-93 war in Abkhazia, according to international data, more than 250,000 Abkhazia residents, mostly ethnic Georgians, had to leave their homes. Whilst denying these refugees their right to return, Sergey Baghapsh proposes that the international community "provides financial aid for the rehabilitation of Georgian refugees, in order for them to become integrated in the social sphere of Georgia."
Abkhazia is not the only Georgian territory that ethnic Georgians have been forced to leave by separatists. About 50,000 people are still in refugee camps in Tbilisi and Gori waiting to return to their homes in Georgia's other breakaway province of South Ossetia. South Ossetian de facto President Eduard Kokoity once stated that their return was impossible, however after a certain period of time he changed his mind and said that the South Ossetian separatist Government would not prevent the return of the refugees to their home villages if they renounced Georgian citizenship and accepted the citizenship of unrecognized South Ossetia.
In a letter sent to EU foreign ministers, Human Rights Watch (HRW) appealed to the EU to stress at international talks on the Georgian-Russian conflict the right of all people to return to their homes. "We are particularly concerned about the inability of ethnic Georgians whose homes are in ethnic Georgian enclave villages north and east of South Ossetia's capital, Tskhinvali, to exercise this right," the letter reads. "The homes in these villages were systematically looted and torched in August and September; some were completely bulldozed. While many of the inhabitants fled in the lead-up to the assault by the Georgian armed forces which started on August 7, they currently have no home to return to, nor do they enjoy any guarantees of protection and security should they attempt to return," it continues.
Sergey Shamba has stated that Abkhazia has taken "all measures" to assist the return of internal refugees to the Gali region of breakaway Abkhazia, and has practically "finished this process."