Former Russian official becomes separatists' Prime Minister
By Temuri Kiguradze
Thursday, October 23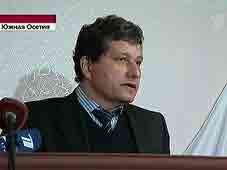 Georgia's breakaway region South Ossetia has a new Prime Minister. According to the separatists' official press service, Russian citizen Aslanbek Bulatsev was approved by the de facto Parliament on October 22.
Prior to this appointment, Bulatsev served as the head of the Federal Tax Service in Russia's North Ossetian Republic. Bulatsev also served as head of the Financial Department of the Federal Security Service in North Ossetia before 2006. He will be the leading minister in the new de facto Government of South Ossetia, the previous Government having been sacked by the leader of the breakaway region Eduard Kokoity in August 2008, soon after the conflict there. Attending the session which approved Bulatsev, Kokoity stated that he has "once again been assured" that he was right to dismiss the former Government. because "it failed to manage the tasks of the crisis period."
Bulatsev is not the first Russian official who has participated in the Government of breakaway South Ossetia. Former de facto Prime Minister Yuri Morozov was also recruited from Russia in 2005. Speaking to Russian journalists on August 18, Russian Prime Minister Vladimir Putin had stated that Russia might "provide assistance" to South Ossetia in forming its new Government.
Commenting on Russia's relations with the de facto authorities of Abkhazia and South Ossetia, the Georgian Foreign Ministry said that Moscow has "set up puppet regimes" in the breakaway Republics. "Shortly after its military aggression, allegedly undertaken for the proto-fascist goal of protecting its own citizens, the Russian authorities recognized the 'states' created on the territory of Georgia by the aforesaid citizens, and entrusted the Russian Federal Security Service, being the KGB's successor, with the task of ensuring the safety of their borders. All this, along with the creation of Russian military bases in Abkhazia and the Tskhinvali region, directly contradicts the President Sarkozy-mediated six-point peace plan," says a statement issued by the Ministry on October 22, which also points out that "The aforesaid steps leave no room for illusions about the Kremlin's attitude towards compliance with universally recognized norms and principles of international law and internationally undertaken commitments."
"Russia openly conducts an aggressive policy in South Ossetia," said Georgian independent political commentator Gia Khukhashvili, who spoke to
The Messenger
. Khukhashvili believes that the appointment of a Russian Federal Security Service operative as the PM of South Ossetia is "not a surprise," because the whole political system in Russia is based on the policy of this Service. "Georgia made several fatal mistakes during August which let Russia legalize its aggression in Georgia's breakaway regions. Russia now openly controls the situation in these regions," said Khukhashvili.