Georgia to receive USD 4.5 billion in aid
By Mzia Kupunia
Thursday, October 23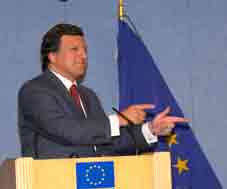 The Brussels donors' conference, attended by over 70 countries and international organizations on October 22, which held to raise funds to support Georgia's economy and infrastructure damaged by the Russian-Georgian war in August, has declared that Georgia will receive USD 4.5 billion from international donors over the next 3 years, USD 2 billion as a grant and USD 2.5 billion as credit.
Both Georgian and foreign officials described the amount of money pledged as "unexpected." "It is much more than we sought, and therefore I think this is a day of joy," Benita Ferrero-Waldner, the EU's External Relations Commissioner, told Reuters news agency after the conference. Georgian Prime Minister Lado Gurgenidze, who led the Georgian delegation at Brussels, was positively surprised as well. "The sum far exceeds the expectations we all had, especially since the onset of the financial crisis," Gurgenidze said, adding that the allocated money will be fully spent on restoring the Georgian economy and helping people damaged during the August war.
"It means that we will have secure energy supplies and a better health system, and it also means that the reforms will continue," the Georgian Prime Minister said.
The decision to hold the donors conference was made based on a joint needs assessment report drawn up by the World Bank-led needs assessment mission, following a request from the Georgian Government that it assess the damage Georgia suffered as a result of the August war. In its report the World Bank said Georgia needed more than 2 billion Euro to restore its economy.
"The EU has brokered the ceasefire, now we should restore the country's economy. The EU and international society will do this together," the President of the European Commission and chair of the donors' conference Jose Manuel Barroso said, adding that Europe has also been damaged by the Russian-Georgian conflict as it "affected Europe's energy security and the diversification of its energy transportation."
Barroso reiterated that the European Commission would allocate 500 million Euro for Georgia over the next three years. "Georgia will get 250 million Euro in 2009 and another 250 million Euro in 2009," Benita Ferrero-Waldner also told journalists. Japan has pledged to allocate USD 200 million to assist Georgia, becoming the second largest donor country after the USA, which has agreed a USD 1 billion aid package.
According to different Georgian and foreign media outlets, Georgia also will receive about EUR 33 million from Germany, EUR 40 million from Sweden, about USD 33 million from Norway and EUR 7 million from France. The International Monetary Fund has also promised to allocate USD 750 million.