Tensions mount on Abkhazian and South Ossetian borders
By Temuri Kiguradze
Friday, October 24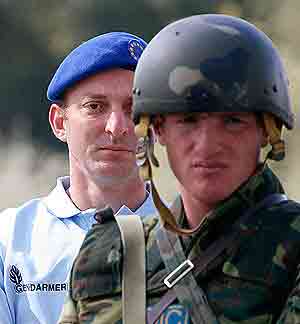 The Abkhazian separatist Government has decided to strengthen its administrative border with Georgia after the murder of one of the senior Abkhazian Defense Ministry high officials, Eduard Emin-Zade, de facto Abkhazian Foreign Minister Sergey Shamba has stated.
The body of Emin-Zade was found on October 23 at his home in the Abkhazian town of Gali. The separatists claim that Emin-Zade's murder was a "provocation" by Georgian special troops. Leader of Abkhazian separatists Sergey Baghapsh had conducted a meeting with Emin-Zade on the same day. The legal, Tbilisi-loyal Abkhazian authorities, speaking to Georgian journalists, stated that the Abkhazian separatist official had been killed due to "internal conflicts" between the Abkhaz and the Russian troops which control the administrative border.
Later on October 23 the Georgian Interior Ministry reported that the situation in the other Georgian breakaway region, South Ossetia, was becoming more tense. According to the Ministry, Russia has sent another 2,000 soldiers to the region this week. "We think the total number of Russian soldiers in South Ossetia is now 7,000," said Shota Utiashvili, spokesperson for the Ministry of Internal Affairs. He added that new troops are now stationed near Java village in the north of the region. "Two days ago, about 40 units of military hardware, accompanied by several hundred troops and four combat helicopters, moved from Tskhinvali to the Akhalgori district," said Utiashvili. "All this makes us think that Russia may be planning to further escalate the situation," stated the spokesperson.
Russia has denied these accusations. Russian Foreign Minister Sergey Lavrov stated that "it's hard to make comments on the statements Georgian officials, because they often contain lies." He added that Georgia regularly "spreads false information." Lavrov maintained that Russia does not hide its support for the separatist republics and has repeated that 3,700 Russian soldiers will be placed in both Abkhazia and South Ossetia. He denied that extra troops would enter the breakaway regions.
Lavrov agreed that the situation in the conflict regions has become more tense, however he accused the Georgian side of provocations. "Literally every day, we appeal to our counterparts in the EU to fulfill their function of guaranteeing the non-use of force in the region," he said.