Georgian MPs to address International Community over Russia
By Mzia Kupunia
Friday, October 24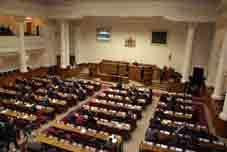 The Georgian Parliament is ready to make an address to the international community, calling upon it to force Russia to fulfil the six-point ceasefire agreement, annul its recognition of the independence of Abkhazia and South Ossetia, and reverse the results of the ethnic cleansing it has committed. "Russia is getting ready for a new aggression," Georgian MPs warn international society, pointing to the increasing number of Russian troops in the Tskhinvali region.
"The ethnic cleansing committed on the occupied territories with the direct participation and assistance of the Russian Federation puts it in direct breach of fundamental principles of human rights and international documents. Its recognition of the 'independence' of Abkhazia and the Former Autonomous District of South Ossetia constitutes a serious breach of international law, an attempt to legalize the results of ethnic cleansing and the annexation of Georgian territory," the document worked out jointly with the Committee of Foreign Relations and Committee on European Integration of the Parliament of Georgia reads.
Georgian MPs have expressed their "grave concern" over the continuous violation by Russia of the ceasefire agreement and asked their international partners to start what they call an "international, independent, unbiased and transparent" investigation of the escalation of and reasons for the August conflict between Georgia and Russia. "We are confident that the truth is on our side when it comes to the issue of who started the conflict, however we want this to be clear internationally, so there are no more questions about these issues," the first Deputy Chairman of the Parliamentary Committee of Foreign Relations Giorgi Kandelaki said. "I think that we are not demanding anything we should not, simply full compliance with the terms of the six-point ceasefire agreement, particularly as they refers to the situation in Akhalgori, Perevi and Kodori Gorge," Givi Targamadze, the Chairman of the Parliamentary Committee on Defence and Security stated.
The address has been initiated by the Chairman of Anti-Crisis Council, Giorgi Tortladze. He expressed his concern that by its latest moves Russia is trying to escalate the conflict. "Timely reaction to this is absolutely necessary," Tortladze said.
The decision to make the address comes several hours after the Georgian Interior Ministry reported that Russia has boosted its military presence in South Ossetia. The Head of the Interior Ministry's Analytical Department, Shota Utiashvili, claimed that Russia is trying to provoke the Georgian side. He mentioned an attempt to blow up a Georgian police checkpoint and the detonation of a Georgian police car. "All this makes us believe that Russia is preparing a further escalation of tensions," Utiashvili said.
However Russian officials have denied they have increasing the number of soldiers in South Ossetia, saying that this is "yet another informational provocation" by the Georgian side. Russian Foreign Minister Sergey Lavrov added that Georgia is not fulfilling its ceasefire commitments and has deployed special purpose units near the borders of Abkhazia and South Ossetia. The Russian Foreign Minister criticized the EU Monitoring Mission for not paying the appropriate attention to this, saying that, "Taking such a light attitude toward what is happening in these zones is a dangerous playing with fire." Lavrov warned that Georgia's actions may lead to "dangerous clashes."
Georgian officials have called the statements by the Russian Foreign Minister a "provocation."
"Russia has a single goal – to maintain instability in Georgia for as long as possible," Georgian Deputy Foreign Minister Grigol Vashadze told journalists, adding that "No violations by the Georgian side have ever been observed."