New shopping mall opens in Kutaisi
By Etuna Tsotniashvili
Monday, October 27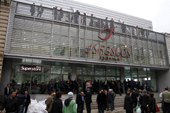 My Home Corporation opened a new trade centre called Kutaisi Karvasla on October 25.
The Director of the Coulisse Design Company and Karvasla B.V. Maurice Roetgering, which is part of My Home Corporation, speaking to The Messenger, says that his company has designed, produced and sold window decorations for a growing circle of international clients since 1992. The construction of the mall started in 2005 and ended last month.
Roetgering remembered that on starting the project he immediately noticed that there was a big difference between shopping malls in Georgia and other European countries, the main difference being that those abroad generally have one owner, but in Georgia trade centres have many owners. Karvasla in Kutaisi has about 150 owners, and has been constructed at a cost of about USD 8 million.
The representative of My Home Cooperation and Administrative Director of Karvasla, Lasha Khazaradze, said that after a year the company will open a more grandiose shopping mall in Tbilisi, which will be the largest in Georgia.
Roetgering admitted that he was very afraid for his business during the Georgia-Russia war but now he is sure that everything will be OK. "I was, to be honest, very much afraid when it happened, and I didn't know what to do, but step by step when we saw what happened, we became very confident it will be good," he said.
The local government of Kutaisi welcomed the guests and expressed their gratitude that businessmen have been interested in investing in Kutaisi. "This is a wonderful project and the beginning of new stage in Kutaisi's development," the Deputy to the President's Envoy in Imereti, Lasha Kiladze, said.