Traditional celebration enlivens capital
By Etuna Tsotniashvili
Monday, October 27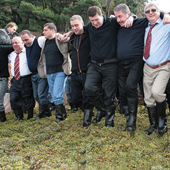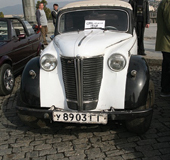 On October's last weekend Georgia's capital celebrates its traditional annual event, Tbilisoba. This year Tbilisoba was more restricted due to recent events in Georgia but the city maintained its tradition of celebration.
"Tbilisoba this year is very moderate but we try our best to keep up our traditions," Tbilisi Mayor Gigi Ugulava stated.
The most impressive element of the celebration was the traditional winepress set up on Rike. Tbilisi Municipality representatives, other Government representatives and foreign dignitaries all took turns at grape pressing. This ceremony was conducted against the backdrop of performances by national academic group Erisioni which made the grape pressing process very exciting.
"One of the main elements of this celebration is the grape crushing. We have been here since morning and are now crushing the grapes. Foreign visitors also participate in this process. This is a national celebration and I am glad I see lots of well-wishers taking part," Ugulava said on October 26.
Prior to the grape pressing the Fruit Festival had been held in Old Tbilisi on Saturday. The streets were decorated with lines of fruit and visitors were able to taste diverse cuisine on Shardeni Street. People from various parts of Georgia brought their fruit to Tbilisi for sale.
"I came from Gori district. We have been through a very hard period, especially in our region, but Georgians are not the sort of people to be downcast and I want to congratulate Georgians on this beautiful celebration. I brought here various fruits and you can taste them," Guram Kapanadze told
The Messenger
.
"This is the second time the fruit festival has coincided with the Tbilisoba celebration. Georgia is rich in fruit and the holding of such a festival is very appropriate. The restaurants and cafe-bars have beautifully decorated their interiors, thus demonstrating the skills of their staff. The most beautiful item here is the fruit tree with all sorts of fruit fastened to it. Once again I congratulate everyone on Tbilisoba," Ugulava said.
An interesting element of Tbilisoba was the exhibition of vintage and unique cars organised by Tbilisi City Hall and Auto Build magazine. Many visitors, and especially car buffs, gathered at Rose Revolution Square to see some vintage and prestige new cars from manufacturers such as Volkswagen, Mitsubishi, BMW, Mercedes, Renault, Opel, Nissan, Toyota etc. Mayor Ugulava said that the Auto show was being held for the first time this year and added that every Tbilisoba sees at least one new event.
"My Audi Volkswagen is a joint model issued in 1975. It is totally original. This show is really interesting. In the past such exhibitions had been frequent in Tbilisi and I am glad this tradition has been revived," Roma Rtskhiladze, auto collector, said. The cars exhibited were for sale, and the exhibition and selling will last for a week.
Another event held with Tbilisoba was the literary Gala award ceremony at the Music and Drama Theatre on Saturday. The jury had chosen 19 books for the contest, nominated in the following categories: table book, book of the year, children's book, art book and best literary project of the year. Another element of Tbilisoba was the presentation of new web site
www.tifliscenter.ge
, which offers visitors a virtual tour of the sights of Tbilisi. Similarly, the visit of world famous footballer Diego Maradona to Georgia was added to the Tbiliobs programme has been coincided with Tbilisoba. A friendly match between Maradona's Argentinian legends and Georgian veterans ended 3:5 in favour of the visitors. Maradona stated that he plans to found a football training centre in Georgia as a Georgia-Argentina joint project.
The two day Tbilisoba festival concluded with a concert on Freedom Square late last night. Tbilisoba was first celebrated during the Communist period and was initiated by Georgia's then Communist leader and subsequent President Eduard Shevardnadze.