New Cabinet nominated
By Mzia Kupunia
Thursday, October 30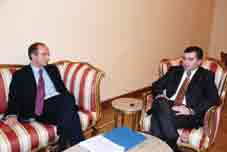 A new Cabinet of Ministers has been presented to Parliament for approval. As expected, no major changes have been made: the Cabinet will have four new Ministers, those of Justice, Culture, Refugees and the Environment.
The Head of the President's Administration, Zurab Adeishvili, has been nominated as Minister of Justice as a replacement for Nika Gvaramia. Deputy Foreign Minister Grigol Vashadze will be the new Culture Minister, replacing Nika Vacheishvili. Koba Subeliani, an MP of the ruling party and a former Minister of Refugees, is renominated for the same position to replace Tamar Martiashvili and the Governor of Samtskhe-Javakheti region, Goga Khachidze, will replace Irakli Gvaladze as Minister of the Environment. All the other Ministers have retained their previous positions.
According to nominated Prime Minister Grigol Mgaloblishvili, no big changes were needed in the Georgian Government because it worked well during the 'crisis situation,' a reference to the August events when Russia carried out military actions on the territory of Georgia, occupying almost a half of the country. "The Government worked in an organized manner during a very tough period. Now we face new challenges, and we should confront these new challenges with consistency. It is important to regain the pace of development which existed in the country before the war in the next 18 months," Mgaloblishvili said.
Georgian Parliament Speaker David Bakradze shared the opinion of Grigol Mgaloblishvili. "It is logical that minor changes are carried out in the Cabinet, but this Government has passed its major test, which was the war, so I don't see any reason for major changes," Bakradze said.
The opposition has expressed its disappointment at the composition of the new Cabinet. "It was not a change at all. Changing four Ministers cannot get the country out of crisis," representative of the Parliamentary minority Gia Tortladze told journalists. "Mgaloblishvili will not have his own team, just as Gurgenidze and Noghaideli did not," MP Gia Tsagareishvili said, "that's why Gurgenidze and Noghaideli had to leave their posts."
Parliament Speaker David Bakradze said that the new Ministerial candidates will have to present their programmes to all Parliamentary committees in the next few days.