Burjanadze comments on new Cabinet
By Etuna Tsotniashvili
Friday, October 31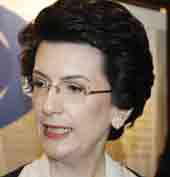 Former Speaker of Parliament Nino Burjanadze has commented on the new Cabinet of Ministers announced two days ago. She has said that "it is a shameful" because "radical changes are needed." She says it is not a new Cabinet at all, and criticizes the Government for simply changing the Ministers of Culture and Environment Protection when Georgia has lost a war.
"This is shameful. Does it mean that the war and territories were lost by Nika Vacheishvili [the former Minister of Culture who has been replaced by Deputy Foreign Minister Grigol Vashadze] and the Environment Minister [Irakli Gvaladze, who has been replaced by Governor of Samtskhe-Javakheti Goga Khachidze]?" Burjanadze said, adding that the dismissal of those Ministers cannot be taken seriously while the Minister of Defence takes no responsibility for losing the war.
Concerning new candidate for Minister of Culture Grigol Vashadze, currently Deputy Minister of Foreign Affairs, Burjanadze said that "it is a mockery of the country" when the only person (Vashadze) who was a real professional diplomat and did his work properly is dismissed from the Foreign Ministry. "I am sure that society will respond to this move adequately," she added.
Burjanadze called the newly-nominated Prime Minister a wonderful person and a good diplomat, but thinks that Grigol Mgaloblishvili will not be able to serve as an effective PM in the prevailing circumstances. "It will be very difficult for him to do anything in this post, especially with the existing team," she said. She predicted that the failure to substantially reconstitute the Cabinet would have serious results. "I do not know why the authorities think the people are so stupid, but that's why they act so cynically. I am sorry, but I have to say, that such moves will have crucial consequences," Burjanadze said.
Burjanadze's comment about the Cabinet's changes was released by the Press Centre of the Foundation for Democracy and Development yesterday. As it explained, Burjanadze made this comment to Imedi TV on October 29, but it was not broadcast.
One of the authors of Rose Revolution, Nino Burjanadze left the ruling party in May, 2008 and founded the Foundation for Democracy and Development. On October 27 she announced that she would found a new political party called Democratic Movement-United Georgia.