Explosions reported in the conflict zone
By Temuri Kiguradze
Friday, October 31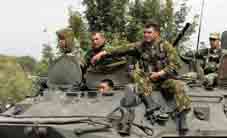 At least one Russian soldier died and four were wounded in incidents in Abkhazia on October 30.
Georgian media reports that two Russian armoured vehicles were blown up by anti-tank mines in the Gali region of Abkhazia. According to these reports the explosions killed two Russian soldiers and left four wounded. Georgian journalists and local residents state that the mines which exploded were planted by the Russians themselves, as part of their plan to strengthen the Abkhazian-Georgian administrative border.
Abkhazian sources confirm the death of only one Russian soldier. Representatives of the separatist regime deny there was an explosion, and state that the armoured vehicle just "fell into a ravine" due to a mistake by the driver. "This road incident caused the death of one Russian military serviceman, and two others received severe trauma," stated the head of the Gali department of the de facto Abkhazian Interior Ministry Lourens Kogonia, speaking to Russian
Interfax
news agency. Georgian media states that the bodies were transported to the Russian town of Krasnodar and the wounded were taken to the hospital in Abkhazian capital Sokhumi.
Russian troops have been actively mining the Georgian-Abkhazian border area in the past two weeks. The order for the "strengthening" of the border was made by the leader of the Abkhazian separatists Sergey Baghapsh after a series of explosions and murders in the Gali region. Separatist officials have accused "Georgian special forces" of committing these acts and Baghapsh has also accused Tbilisi of preparing a series of the "terrorist attacks" on the territory of Abkhazia. Tbilisi denies any kind of connection with the blasts and murders in Gali, and states that all these incidents were caused by "internal conflicts" between Abkhazian criminals and Russian troops.
Russian troops entered the territory of the Georgian breakaway provinces of Abkhazia and South Ossetia after the August conflict. Moscow then recognized them as independent states. The Georgian Parliament declared these actions to be an "occupation of Georgian territory."
"The combined and "successful" efforts of Russian "peacekeepers" and Kremlin puppets over the 17-year history of the so-called peacekeeping operation have led to a total ethnic cleansing of Georgians in the conflict zones. Against the background of a great variety of arms and hardware flowing in vast quantities from Russian territory into the conflict zones, the complete chaos that has transformed these regions into criminal enclaves for the smuggling of arms, drugs and radioactive substances and human trafficking, discrimination against the local population including a ban on native language tutorship and systematic air raids on the peaceful civilian population, we consider it immoral, to put it mildly, to accuse the Georgian Authorities of causing an escalation of the tension," says a statement released by the Georgian Ministry of Foreign Affairs on October 30.