Killer mushrooms eaten near former Russian bases
By Sopo Datishvili
Monday, November 3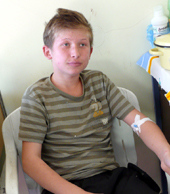 About 50 people from Khashuri and Zugdidi were taken to Tbilisi hospitals due to mushroom poisoning on October 31. Mushrooms have poisoned the members of several whole families. Two children have already died in Iashvili hospital, others spent extended periods in resuscitation departments.
Some of the toxic mushrooms were bought at the local market and some picked in nearby forests. The poisoned patients had eaten those varieties of mushroom before but never fallen ill. The mushroom types which proved toxic are Tseretso, Katambarkala and some other varieties. These types of mushroom are quite common in Georgia and many people eat them.
There are several explanations being bandied about as to why these mushrooms became dangerous to human life. Some toxicologists think it was the result of mutation but others are sure that it was caused by the chemical substances which leaked into the ground from Russian military bases, both Zugdidi and Khashuri having been occupied by the Russian forces during the August war.
Duty Toxicologist at the Iashvili clinic, Marina Petriashvili, has explained that there have always been some cases of slight poisoning during the autumn season, but none so serious. Petriashvili told
The Messenger
that on different days last week about 12 children were taken to hospital. "All the patients said that they had eaten these mushrooms before and were sure they wouldn't hurt them. The parents of the children being treated in our clinics are still in the adult hospitals," she added.
Brothers Alexi and Erekle Torias, aged fourteen and ten respectively, are still being treated in Iashvili clinic, though their condition has improved. The brothers recalled that it wasn't the first time they had eaten mushrooms picked in the wood. Their mother Nazibrola Buliskeria was also ill, but now feels better and is looking after her two sons in hospital.
"My neighbours picked the mushrooms in the forest and then shared them with us. After eating the mushrooms I had a haemorrhage and felt extremely bad," Alexi Torias said. Six-year-old Mariam has not been able to see her mother yet, as she was also poisoned by the mushrooms and remains in Khashuri hospital. "I had stomach ache and was taken to Tbilisi hospital. Now I feel better," Mariam said.
Only one boy remains in the resuscitation department but doctors say he will soon be moved into the ward, as the condition of all the survivors has improved.