Georgian Parliament approves new Cabinet
By Etuna Tsotniashvili
Monday, November 3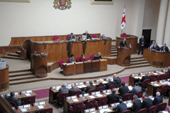 By 98 votes to 11 the Georgian Parliament approved a new Cabinet of Ministers on November 1. The new Government will be led by freshly-appointed Prime Minister Gega Mgaloblishvili, a former Ambassador to Turkey. Mgaloblishvili has made only slight changes in his new Cabinet and only four Ministers have been replaced.
In his first speech from the Parliament tribune the new PM introduced MPs to his new action plan and highlighted that the main goal of the new cabinet would be to fulfil President's Saakashvili's 2008 election slogan. "Our main goal is to achieve a 'United Georgia Without Poverty.' Many things have been done since the Rose Revolution but they are not enough, they are only the beginning," Mgaloblishvili said.
The Prime Minister stated that Georgia faces two challenges: the Russian aggression and the international financial crisis that impacts upon Georgia. In response to these challenges, Mgaloblishvili said that the President has ordered the Government to implement an 18-month reconstruction plan to recover from the August war.
"The reconstruction plan will reestablish Georgia on the road to economic development. This being achieved, we will implement a further 50-month programme successfully. The main content of the plan is reconstruction, care and employment," he said, adding that the plan will be implemented successfully if radical democratic reforms take place in the country.
Mgaloblishvili also said that he plans to set up a private property protection monitoring system and that he is ready to work on this with Parliament. However he did not give more details. He did say however that in 2009 the basic state pension will increase to USD 100 and the salary of public school teachers will increase by GEL 50.
In his speech Mgaloblishvili said that he is always ready to cooperate with and meet any opposition parties. The Parliamentary minority has not supported the new Cabinet because it does not contain any "real changes," and has been rather critical over this issue. Christian Democrat leader Giorgi Targamadze has stated that he has not received any logical explanation as to why former PM Lado Gurgenidze was dismissed. But Mgaloblishvili said that he had avoided making radical changes in the Government due to lack of time.
"I have stated that three days were not enough for me to form a new Cabinet, so it was my request to the President that the Cabinet should not be changed radically at this point. I am ready for consultations on the matter [of a coalition Government] with everyone, because consolidation is what we need now," he said.
In the reshuffle four Ministers lost their posts. Zurab Adeishvili, the head of the President's Administration, replaced Nika Gvaramia as Minster of Justice. Grigol Vashadze, a diplomat who has served as Deputy Foreign Minister, replaced Nikoloz Vacheishvili as the Minister of Culture, Sport and Monument Protection. Koba Subeliani replaced Minister for Refugees and Accommodation Tamar Martiashvili and the Governor of Samtskhe-Javakheti region, Goga Khachidze, replaced Minister for Environment Irakli Gvaladze.
The new Prime Minister promised to "continue the struggle'" to restore control over the two separatist regions after Parliament confirmed him in post. "We'll use all diplomatic means to continue our struggle to restore Georgia's territorial integrity," Mgaloblishvili said.