Adjara elects Supreme Council
By Mzia Kupunia
Tuesday, November 4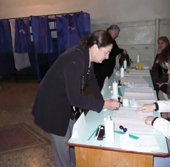 The residents of the Adjara Autonomous Republic voted yesterday to elect the members of its Supreme Council – Adjara's local parliament. According to the Supreme Election Commission more than 35 % of voters made their choice between the 6 political parties running in the elections – the ruling National Movement Party, the Christian-Democratic Party and On Our Own Party (the Parliamentary opposition), as well as the Georgian Troupe, Industry Will Save Georgia and the United Communist Party. 6 of the 18 seats in the Supreme Council are filled by candidates elected by the first-past-the-post system in individual constituencies, so-called majoritarian candidates, while the remaining twelve are elected in proportion to the votes their parties receive through a party list.
According to Georgian officials no major violations were observed during the voting process, watched by more than 20 international and 9 local observer organizations. The Prime Minister of Georgia, Grigol Mgaloblishvili, called the Adjara Supreme Council Elections and two simultaneous by-elections to the Georgian Parliament a "test for democracy" and stressed that both elections were held peacefully. Georgian Parliament Speaker David Bakradze also stressed the importance of the November 3 elections in both Adjara and Tbilisi, and said that Georgia was continuing with its democratic development process despite the Russian aggression.
Meanwhile local observers have reported some violations in election precincts in Adjara. The Georgian Young Lawyers' Association, which sent its observers to 140 election precincts in the Adjara Autonomous Republic, filed a list of 12 electoral violations it had seen, including the use of fake ID cards and attempts at repeat voting and ballot stuffing. According to the GYLA these violations were observed in Batumi, Kobuleti, Khelvachauri and Keda election districts. The Chairman of the Georgian Young Lawyers' Association, Giorgi Chkheidze, said that the organization would present its final report on the elections after the vote count was over, however he said that the Supreme Council elections were more "calm" than the previous Presidential and Parliamentary elections.
"It all went more or less smoothly during the day," Chkheidze stated, "However half an hour is still left till the voting is over, so let's see what happens." The preliminary results of the Adjara votes will be announced by 10 am on Tuesday. The Supreme Election Commission will present the final results of the elections in 18 days time as demanded by the Election Code.