Ruling party obtains majority of seats in Adjara
By Mzia Kupunia
Wednesday, November 5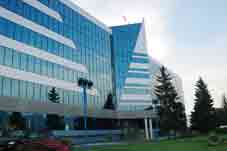 The ruling National Movement has won 78.82% of the votes in Adjara Autonomous Republic Supreme Council elections, according to preliminary results released by the Supreme Election Commission on Tuesday. Consequently, it has won a majority of the seats. The only other party which will be represented in the Adjara legislature is the Christian Democratic Party, which has won 14.71% of the votes. None of the four other parties contesting the November 3 election has been able to overcome the 5% threshold required to gain representation, the Supreme Election Commission of Adjara (SEC) has announced.
National Movement candidates are also leading in all six first-past-the-post contests, according early exit poll results, the Supreme Election Commission has announced. Under recent legislative amendments, the number of seats in the Supreme Council of the Adjara Autonomous Republic was decreased from 30 to 18, filled by the elected candidates in 6 'majoritarian' (first-past-the-post) single member constituencies and 12 elected proportionally under a party list system.
Voter turnout was 44.9%, with the lowest turnout recorded in Batumi, the capital of the Autonomous Republic. Election officials and local and international observers have described the Adjara elections as "mainly calm." According to data published on the SEC website, 102 objections have been submitted to the Precinct Election Commissions, and 4 to the District Election Commission. The results of the elections have been annulled in three election precincts in the Khelvachauri and Shuakhevi districts.
The chairman of the Adjara Autonomous Republic Supreme Election Commission, Archil Mikeladze, has said that although some violations had been observed during the day, these will not affect the final results of the elections. According to the SEC Press Service, all objections will be examined carefully and the relevant decisions will be made. The leader of the Christian Democratic Party Giorgi Targamadze has criticized the conduct of the elections however, saying that some activities observed in Batumi and several other districts demonstrated "far from democratic principles." Targamadze said the party would object to violations on all levels.
The Adjara polls, and two by-elections in Tbilisi also held on November 3, were boycotted by most of the non-Parliamentary opposition parties. The ruling National Movement also refused to run in the by-elections. The Supreme Election Commission will present the final results of the elections in 18 days time as demanded by the election code.