Georgia is ready for the negotiations in Geneva
By Temuri Kiguradze
Wednesday, November 5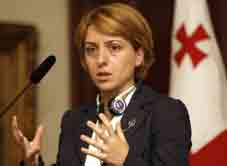 The Georgian Foreign Ministry has stated that, contrary to information broadcast by Russia, it is ready to participate in the next round of discussions in Geneva. The Ministry made a statement on November 3 in which it said that although the Russian Foreign Ministry is telling people that Tbilisi wants to avoid the talks, these claims are "absolutely groundless" and represent "Soviet-type propaganda aimed at misleading the international community."
The Geneva discussions were meant to start on October 15, 2008 as part of the Medvedev-Sarkozy ceasefire plan which was signed during the August Russian-Georgian conflict. The talks are mediated by the UN, EU and OSCE. The first round of discussions was cancelled due to "procedural difficulties," as representatives of the separatist Governments of the Georgian breakaway territories had demanded the status of full participants, as representatives of independent states, something unacceptable to Georgia.
The Georgian Foreign Ministry has stated that on October 15 the Russian side "boycotted the plenary session, which was attended by the representatives of the UN, EU and OSCE as moderators, and Georgia and the United States of America, as participants," pointing out that the format of the talks, which did not include Abkhazian and South Ossetian representatives as full members, had been "agreed among all parties," including Russia. "Moreover, the Russians and their proxy regimes in Abkhazia and the Tskhinvali Region also boycotted the meetings of the working groups, where, as agreed in advance, the separatists were to take part at an informal level to discuss issues related to security and stability in Abkhazia, Georgia, and Tskhinvali Region/South Ossetia, as well as the safe and dignified return of refugees to their places of residence," read the statement of the Ministry.
Since October 15 the separatist regimes of Abkhazia and South Ossetia have also stated their readiness to participate in the next meeting, however they will only do so as full member delegations. "We have stated that the differentiation between the levels of the delegations has to be removed and the Abkhazian and South Ossetian delegations have to be at the same level," stated Boris Chochiev, representative of the South Ossetian separatists at the Geneva talks. "We will try to negotiate and find a compromise on the format of the [next] talks," said Georgian Deputy Foreign Minister Grigol Vashadze, who has since moved to the Ministry of Culture. "The so-called Abkhaz and South Ossetian delegations cannot officially be part of the talks," he confirmed, but he added that "the Russians can include in their delegation whoever they want."
"The Georgian side is looking forward to taking part in the next round of negotiations in Geneva on November 18, in the format agreed by all parties. We also hope that this time the Russian Federation will participate in the plenary, as a demonstration of its dedication to the peace process. The Geneva format, in our opinion, is a good way to solve the existing problems and discuss outstanding issues. The Georgian side, on its part, will be closely cooperating with the moderators and all interested parties to make sure that the next meeting in the Geneva format takes place on November 18, as planned," says Tbilisi on November 3.