New channel to be devoted to politics
By Salome Modebadze
Wednesday, November 5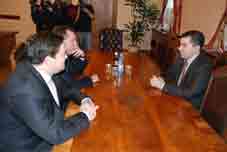 The Georgian Public Broadcaster has presented the Georgian Parliament with an initiative to license the proposed new second channel to broadcast political events.
Davit Bakradze, the Chairman of the Parliament of Georgia, held a briefing with Levan Kubaneishvili, General Director of Georgian Public Broadcasting, and Levan Gakheladze, Chairman of its Board of Trustees, concerning the establishment of a new political channel in Georgia in the nearest future. The new channel would connect different political parties and organizations, and offer them an opportunity to present their views to the public through debates. Briefings and press conferences from the Georgian Parliament and its various committee sessions will also be broadcast on the channel daily so that the Georgian population will hear news and get answers to their questions on air.
Bakradze has approved the initiative and expressed his hope that the coverage area of the second channel will soon include the whole of Georgia, after the resolution of certain technical problems. At the briefing Levan Kubaneishvili added that from December 1, the public would see a renewed Georgian Public Broadcaster as well.
Speaking with
The Messenger
Miranda Bakradze, PR manager of GPB, explained the aim of the project, and confirmed its political profile. "There has always been a great demand for political talk shows in Georgia and we now have all the conditions necessary to fulfil such a project," Bakradze noted. She emphasized that the coverage area problem will be settled by the end of the year and that the second channel will probably start broadcasting along with the reorganized GPB.
Georgian opposition parties state that they are always eager to express their views on all the burning issues in the country but can't hide their doubts that the Georgian Government may have some cunning intention in establishing this channel, as it is afraid of public opinion in general. "We are somehow afraid that the opposition parties and other non-Governmental organizations will lose free time for debating on GPB, the main television in our country", Manana Nachkebia from New Rights said. The Labour Party commented that it is ready to debate any time and anywhere, never distinguishing which channel to use, but the new initiative about the second channel still seems to be part of the Government's intrigues.
Opposition MP Gia Tsagareishvili explained that the new project would be modelled on similar channels popular in many countries abroad. "This idea struck the Members of Parliament a month ago. We've been having consultations with foreign experts and professionals and have decided to create our own political channel with the support of different Embassies and diplomatic corps. The channel will be a source of communication between different Governmental and non-Governmental bodies and between opposition parties and the Georgian population", Tsagareishvili told
The Messenger
.