New Chief of Staff appointed
By Mzia Kupunia
Thursday, November 6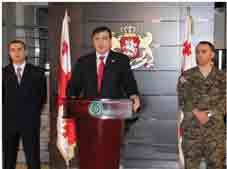 The Georgian Armed Forces has a new Chief of Staff. President Mikheil Saakashvili appointed Vladimer Chachibaia to replace Zaza Gogava as head of the Georgian forces on Tuesday. A need for organizational changes in the Georgian Armed Forces was cited as a reason for the decision.
Speaking to the senior military officials late on November 4, Saakashvili said that the August war and the hearings of the Parliamentary Commission studying the August events had revealed some "serious flaws" in the Georgian Army and asked the new Chief of Staff to address those problems. At the same time the Georgian President praised the Georgian Army and the outgoing Chief of Staff, saying that during the recent conflict with Russia "the artillery and most of the officers had done a good job, although some commanders seriously failed." He said that Georgian military forces had shown a "furious resistance."
Saakashvili said Georgia was not defeated in the Georgian-Russian conflict. "I want to remind everyone who is saying that Georgia has been defeated, that the defeat was in 1993, when our armed forces and economy collapsed and the Government was totally disorganized," Saakashvili said, adding that none of that had happened this time.
The President said that it was impossible to build a perfect system in four years and that further development of the Georgian army is needed. "Now we need a modernization of the armed forces. Education is the most important factor in this, we have to send our officers to the various leading military academies," he said.
According to the Georgian Defence Ministry Vladimir Chachibaia was in charge of education programmes in the armed forces before he was appointed Chief of Staff. Outgoing Chief of Staff Zaza Gogava has been appointed Head of the Georgian Border Police, replacing Badri Bitsadze, who resigned last week.