Tbilisi hails Obama's victory
By Temuri Kiguradze
Thursday, November 6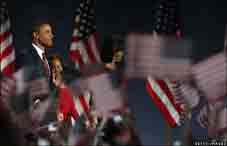 According to the preliminary results of the US elections Barack Obama has gained an impressive victory. His rival, Senator John McCain, has already conceded defeat and congratulated Obama.
Georgian President Mikheil Saakashvili made a televised statement on November 4, talking about the American elections, in which he said that "no matter which candidate wins, Georgia's position will strengthen." However he underlined that Obama and Joe Biden, his running mate, had "some concrete plans about strengthening Georgia."
"Senator Obama had the most precise thesis about Georgia during the election campaign; Senator McCain is our old friend, Vice-President Biden is our and my old friend. He was almost the only Western politician last November [when Georgian police broke up an oppositional protest rally] who said that the crisis had also been the result of external subversion and interference. He said this during one of the internal debates within the Democratic Party," Saakashvili said.
President Saakashvili also spoke about more active US support for Georgia after the inauguration of Obama. He mentioned that the USD 1 billion that Georgia will receive from the US is the personal achievement of future Vice-President Biden. "He [Biden] first spoke about this aid when he was in Tbilisi at the time when Tbilisi was being bombed, when he spent several days with us. He has very concrete plans about strengthening Georgia and its economy," Saakashvili continued. "He also met with representatives of our opposition when they were visiting the United States and called on them to pursue consolidation – not for the U.S.'s sake, the U.S. has many other interests, but for the sake of Georgia's strengthening."
Also commenting on Obama's victory, Georgian MP Gia Tsagareishvili, representing the Parliamentary minority, said that Obama managed to do what "Gore, Kerry and Clinton couldn't, win in those states where the Democrats haven't won in 30 years." Tsagareishvili is sure that Obama's course in foreign policy will remain unchanged, however he considers that the Saakashvili regime won't be seen as a "beacon of democracy" in Eastern Europe anymore, as outgoing American President George Bush used to refer to it.
"If the Saakashvili regime directs itself towards the development of democracy, it will have the support of the USA. If not it will be changed, but only in a democratic way, without coup d'etats or riots," said Tsagareishvili, as quoted by the Georgian Interpressnews news agency.
Russian President Dmitry Medvedev also made a comment about the American elections on November 5. "We don't have a problem with the American people, we don't have anti-American attitudes. We hope that our partners in the new administration will choose a policy directed towards good relations with Russia," said Medvedev in Moscow. However, in the same speech he accused the USA of stimulating the conflict in South Ossetia in August 2008 and promised the Russian people would not "give up" in the Caucasus. Barack Obama has stated in his speeches that the USA didn't react properly during the Georgian-Russian war in August. He said that the American Government should have taken a stricter position towards the protection of Georgia.
"America's foreign policy is based on America's national interests, and none of the American Presidents will change it radically," says political analyst Soso Tsintsadze, talking to the same agency. Therefore he considers it senseless to talk about who is better for Georgia, Obama or McCain. He considers that the Caucasus, due to its important geopolitical location, will always be in the hoped-for sphere of interest of the USA.
Tsintsadze thinks that Obama will pay more attention to the protection of democracy in Georgia. "Democrats traditionally care about problems like lack of democracy, human rights abuses, rigged elections, infringements of freedom of speech. An emphasis on these questions is part of the foreign policy of the new President. Republican Presidents intentionally turn a blind eye to them. The attitude of this administration will depend on how internal political process are conducted in Georgia," he points out.
"I don't expect serious changes in the policy of the USA towards Russia. Their relations will depend on Russia itself. I don't expect a Cold War confrontation or a tensing of the situation, however the position of Washington will be to provide a sufficient counter to Russia's actions," said Soso Tsintsadze.