ProCredit Bank starts new project
By Mzia Kupunia
Thursday, November 6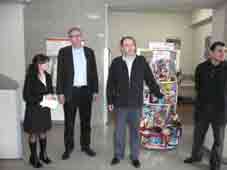 ProCredit Bank launched a new project called Client's Corner on Wednesday. Under the terms of the project, ProCredit Bank clients who run different kinds of business will be able to exhibit their products, advertisements and contact information on special stands in ProCredit Bank branches for two weeks each.
"The Client's Corner project aims to promote the development of Georgian business. We have always tried to offer our clients not only banking services but other kinds of assistance. This project is one more step towards our goal," Philipp Pott, the General Director of the ProCredit Bank, said.
Pott said that every client who wants to promote his business in ProCredit Bank Client's Corner will receive a special stand in one of the bank's branches after submitting an application. One of the first companies to use the new service is Elite-Pro Ltd. The company's products have already been exhibited in ProCredit Bank's Gamsakhurdia Street branch. Marketing manager of Elite Pro Ltd Giorgi Tumashvili said the new project would help the company raise its profits. "We expect that through this new service Elite Pro will become more famous, and therefore, increase its sales and profits," Tumashvili said.
Client's Corner, which has already started in the bank's branches in Gamsakhurdia and Tsereteli Streets, will expand all over Georgia, bank officials say.