ICC members meet Nino Burjanadze
By Mzia Kupunia
Friday, November 7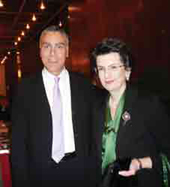 The International Chamber of Commerce Georgia held its monthly discussion forum on Wednesday at the Sheraton Metechi Palace hotel. Former Parliament Speaker and current head of NGO the Foundation for Democracy and Development, Nino Burjanadze, was the guest speaker.
Burjanadze was invited to speak to ICC members on several issues. The business aspect of the postwar situation in Georgia and the future prospects of business development in Georgia were touched upon during her speech. Burjanadze stressed the importance of a close connection between business and Government. However, she stated that business should operate independently of state interference. "A change of Government should not affect businesses," Burjanadze said.
Burjanadze also touched upon the issue of legislation, and the need to defend property rights. She said that Government and society need to identify which main issues in the Georgian economy require special attention. "We need to have a clear strategic vision of where we are going and what the economic strategy of the country will be," Burjanadze said.
According to an ICC Georgia official statement made by its Chairman Fady Asly, 2008 has been a turbulent year and businesses are seeking stability. The participants of the forum were interested in the former Parliament Speaker's views about regulating the Georgian-Russian conflict. She noted that the problem needed to be resolved in a peaceful way through intensive negotiations. "We should try to use international support and regulate Russian-Georgian relations step by step. We should start negotiations with the support of international society, because when you are in politics you should be able to talk to both your friends and enemies," she said.
After the meeting the participants of the forum noted that the discussion had been "frank and open."