Opposition demands early Presidential and Parliamentary elections
By Mzia Kupunia
Monday, November 10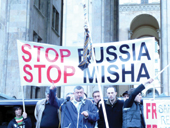 Several thousand people gathered in front of the Georgian Parliament on Friday to mark the first anniversary of November 7, 2007, when the riot police dispersed an opposition demonstration on Rustaveli Avenue with tear gas, batons and rubber bullets.
The leaders of the five opposition parties participating in the rally announced the launch of a "new wave" of protests starting on November 7, with the demands to hold early Presidential and Parliamentary elections, return Imedi TV to its legal owners, change the election code and release 16 political prisoners incarcerated since last November's events. The New Rights Party, Conservative Party, People's Party, Labour Party and Movement for United Georgia also distributed leaflets outlining their five month "action plan" among the demonstrators.
Under the plan, the opposition will hold a series of rallies periodically from November 7 to April 9, with the "ultimate goal of peacefully changing the current Administration." The first deadline imposed by the opposition is November 23, the date by which it demands that Imedi TV is returned to its "legal owners." The ultimate deadline is April 9. The leaflet says that, "If the Government does not meet the demands of the Georgian people by April 9, a national disobedience campaign and round-the-clock protest rallies will be launched in Tbilisi, as well as in all the other cities of Georgia."
On Rustaveli Avenue the opposition leaders addressed the demonstrators, who were much smaller in number than on November 7 last year, and called on them "not to get tired of the struggle." "The most important thing is to reach the goal. We should not become tired, our power is in our durability," Levan Gachechiladze, one of the leaders of the opposition and a former Presidential candidate, told the rally.
Most of the opposition leaders stressed that their main demand was the resignation of President Saakashvili. David Gamkrelidze from the New Rights Party said that Georgia is facing two major threats: Russian aggression and Mikheil Saakashvili. "We should achieve his resignation," Gamkrelidze stated, addressing the people outside Parliament. "We failed to change the authorities last year, but we will definitely achieve this goal and return Abkhazia and South Ossetia, lost by the Saakashvili regime," Labour Party leader Shalva Natelashvili told the demonstrators, who greeted his appearance on the tribune with chanting and applause.
President Saakashvili, who has been strongly criticized over the November 7 events, was at this time shown visiting Giorgi Sherazadashvili, one of those injured a year ago during the police crackdown on the demonstrators. In the broadcast the President once more stated that both the Government and he personally had learned "big lessons from the November Events." "What November 7 taught us is that issues should be resolved not in the streets, but in Parliament and court. All matters should be settled through dialogue and mutual understanding, not swearing and fighting," Saakashvili said.
After the rally outside Parliament the demonstrators marched to the Presidential residence at Avlabari. There the opposition leaders read their demands, reiterating that they would "keep fighting till the end." An address to the US President-elect Barack Obama was also read at the rally. "We congratulate and support you, at the same time we hope that the new administration of the USA will stand with the Georgian people and not with some particular leader," it read. The next opposition rally is planned for November 23, the fifth anniversary of the Rose Revolution, and will include 24-hour picketing of the Imedi TV premises, as stated in the "action plan."