Russia still wants to include Sokhumi and Tskhinvali in Geneva talks
By Mzia Kupunia
Tuesday, November 11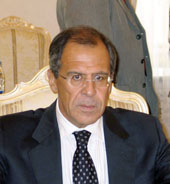 Russia still wants Abkhazia and South Ossetia to participate in the Geneva talks as the equals of the other participant states. A week ahead of the face-to-face negotiations, disrupted last month due to the disagreement between Georgia and Russia over the status of the breakaway regions' delegations, Russian Foreign Minister Sergey Lavrov has said that the Geneva negotiations will not be fruitful without the equal participation of Abkhazian and South Ossetian representatives, Russian media has reported.
While the Russian side is setting its conditions for the upcoming talks in Geneva, Georgian officials reiterate that only Georgian, Russian and US representatives are eligible to participate in the talks, adding that the representatives of the breakaway regions can take part in the so-called "working meetings," held informally to discuss the issues of security and the return of IDPs to their homes.
Earlier this month Tbilisi rejected allegations from Russia that Georgia was not going to take part in the Geneva negotiations on November 18, Georgian media reported. The statement released by the Georgian Foreign Ministry on November 3 said the allegations were "absolutely groundless," reiterating that Russia, Abkhazia and South Ossetia were to blame for the suspension of the previous talks. "The Georgian side is looking forward to taking part in the next round of negotiations in Geneva on November 18, in the format agreed by all parties. We also hope that this time the Russian Federation will participate in the plenary, as a demonstration of its dedication to the peace process. The Geneva format, in our opinion, is a good way forward to resolve the existing problems and discuss outstanding issues," the Georgian Foreign Ministry said.
Analysts have suggested that what Russia wants to achieve by involving the breakaway regions, recognized as independent states by only Russia and Nicaragua, is to set a precedent. "The Russians understand that this would mean the indirect recognition of the breakaway regions," Political analyst Ramaz Sakvarelidze told
The Messenger
.
The Geneva talks, mediated by UN, EU, OSCE and the US, were suspended on October 15 due to "procedural difficulties," with the parties agreeing to resume negotiations on November 18. The Georgian and Russian sides blamed each other for the disruption of the session. The sides were due to discuss establishing stability and security in the region, returning IDPs to their homes and the complete withdrawal of Russian troops.
Tbilisi claims the format of the negotiations envisages the participation of only six parties: Georgia, Russia, the USA, the EU, the OSCE and the UN. Russian officials however have insisted on involving representatives of de facto Abkhazia and South Ossetia in the talks.