Two policemen killed in blast
By Temuri Kiguradze
Tuesday, November 11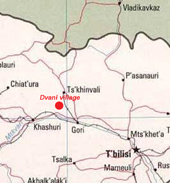 Two Georgian policemen have been killed, and three injured, as the result of a blast in Dvani village on November 10. Dvani is a Georgian village in the Kareli region, near the administrative border with breakaway South Ossetia.
According to the report of the Georgian Ministry of Internal Affairs, the first bomb exploded when policemen were patrolling the village in the early morning. After some time another patrol vehicle arrived at the same location and the second explosion occurred. The Ministry first reported that the blasts were caused by a mine, however later; speaking to
The Messenger
, spokesperson for the Ministry Shota Utiashvili stated that the device was a remote-controlled bomb.
Hansjorg Haber, Head of EU Monitoring Mission in Georgia (EUMM) has confirmed the information about the bomb. EUMM made a statement concerning the incident in Dvani on the same day. Its monitors stated that the bomb was an "improvised explosive device." Monitors also reported that gunfire accompanied the explosions.
"We are very concerned to learn about today's attack in Dvani that killed two Georgian police officers and injured three. We send our condolences to their families and hope that the injured policemen get well soon. This attack by an improvised explosive device is an unacceptable breach of the Sarkozy-Medvedev [ceasefire] agreement. It has to be thoroughly investigated on both sides and the authors duly prosecuted," Haber, said. "We repeat our call on all sides to prevent further provocations." Haber also added that the blast "risks escalating the still tense situation" in the conflict zone environs.
The South Ossetian separatist Government has denied any connection with the Dvani blast. "This [Dvani village] is in Georgia, and anything that happens there has no connection with us [the de facto Government]. The Georgian authorities have a tendency to accuse South Ossetia of causing every incident in the zone of conflict and I cannot guess what has really happened here," said Valery Valiev, the so-called Minister of Internal Affairs of the breakaway region, in a statement published by the separatists' official Press Service. He pointed out that the South Ossetian forces "don't conduct any actions on the territory of the bordering state."
The day before the Dvani explosion South Ossetian militia occupied the Georgian village of Perevi and announced plans to establish "the state border of South Ossetia" in the village. Georgian media reports that ethnic Georgians have already begun to leave the village, fearing aggression from the Ossetian troops. Perevi is outside the South Ossetia conflict zone, and was occupied by the Russian Army during the August intervention. Georgia maintains it is part of Georgia proper, but representatives of the separatists' authority have stated that the "statements of the Georgian side [concerning Perevi] have no basis," because the village has been part of South Ossetia "from ancient days." The request of EU monitors to enter Perevi has been declined.
"There really is a post of South Ossetian troops in Perevi. It has been established to stop the illegal smuggling of wood from South Ossetia," stated so-called Deputy Defence Minister of the separatist authorities Ibragim Gasseev. He also noted that the post would remain in Perevi "as long as it is needed." Commenting on the concerns of the EUMM and their request to enter the village, Gasseev stated that "[EU monitors] should spend more time protecting security in the zone of their responsibility," and "we can provide law and order on our territory by ourselves."