USAID's SME Support Project in Abastumani
Wednesday, November 12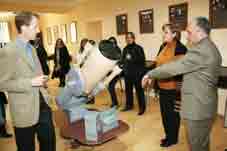 On November 7, 2008, USAID's SME Support Project hosted an unforgettable familiarization trip to Abastumani for travel operators, donor organizations, media, financial institutions and Government representatives. According to Dan A. Berkshire, the SME Support Project's Chief of Party: "The Abastumani tourism infrastructure rehabilitation programme, implemented by the Project, was aimed at developing Abastumani into a viable tourism destination and assisting the Ilia Chavchavadze State University National Astrophysical Observatory to re-develop astro-tourism in Georgia."
The travel itinerary featured visits to a total of 5 supported projects – Hotel Kapa, the Abastumani Tourism Association, indoor cafe Ojakhuri and outdoor cafe Roscha in Abastumani and the Refractor Building at the Abastumani Astrophysical Observatory, which accommodates the Observatory Museum, 40cm refractor telescope, conference facility and offices. The projects implemented in Abastumani Resort have been funded through the competitive grants programme of the SME Support Project.
The close cooperation between the SME Support Project, Ilia Chavchavadze State University and the Astronomical Association of Georgia contracted by the Project has resulted in the establishment of an astronomical museum to make it possible for the public to explore more about astronomy in Georgia. A new website - www.observatory.iliauni.edu.ge - as well as a variety of souvenirs and publications developed with the Project's assistance will help to publicize the Observatory's activities and make it more accessible to the public at large. At the same time, the SME Support Project has funded the complete overhaul of fabric and equipment of the 40 cm Refractor Building, including lasting, cost-effective rehabilitation of its surroundings.
As to its future plans, "the Abastumani Astrophysical Observatory, together with the Association, plans to organize a summer school for international colleges and universities that will further promote the Observatory internationally," adds Irine Salukvadze, the SME Support Project's Deputy Chief of Party.