Government is planning tax cuts
By Mzia Kupunia
Wednesday, November 12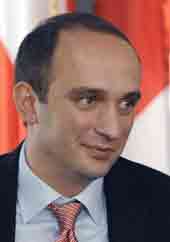 The Georgian Government is planning to decrease income and dividend taxes by 5% each from January 2009. According to Georgian Prime Minister Grigol Mgaloblishvili, who announced the tax cut plans during his meeting with businessmen on Tuesday, income tax will be reduced from the current 25 % to 20% and dividend tax from 10% to 5% from next year.
"It means an additional GEL 250 million will enter the Georgian economy. It means that the income of all employed people will increase, as well as their savings. In addition, a tax cut is a good precondition for creating new jobs. This initiative will affect every citizen of Georgia," Mgaloblishvili said, adding that Georgia is currently facing tough problems and there is an urgent need to reconstruct everything damaged by the recent war.
Analysts say that the tax cut itself is a positive change, but some doubt that it will have as big a positive effect on the Georgian economy as the officials suggest. Economic analyst Gia Khukhashvili suggests that a tax cut alone is not enough to drive the economic development of the country. "Of course a tax cut will help promote more honest declarations among taxpayers, and this is positive, but I don't think it will promote the creation of new jobs. We have high political and investment risks and a non-competitive business environment in Georgia, which hamper the country's economic development," Khukhashvili said.
Last year the Georgian Parliament approved amendments to the tax code proposed by the Government. It envisaged replacing the 12% income tax and 20% social tax with a combined 25 % income tax. The changes then were criticized as 'discrimination against employees,' because, the opposition claimed, the tax burden was shifted from the employer to employee. However the Government dismissed the criticism, saying that the change would help employers pay higher salaries. Later the Government presented its 5-year programme, which among other things envisaged the gradual reduction of income tax to 15% by 2013.
Georgian officials say the Government is working on a series of new economic initiatives. According to the Prime Minister Mgaloblishvili the details will be available later. Mgaloblishvili has also stated that he is currently holding meetings with representatives of different social groups, in order to reflect their problems in the budget for the upcoming year.