Two children killed by Soviet mine
By Temuri Kiguradze
Thursday, November 13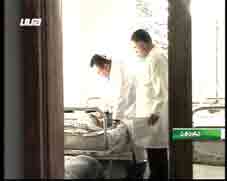 Two children died and one was injured in a mine blast in Urekhi village in Ajara on November 12. The explosion happened at the site of a former Russian military base where the kids used to play and collect scrap metal.
A land mine hidden in a hole exploded as the youngsters were collecting metal near it. 12-year-old Richard Orgiov and Levan Leonidze were killed by the blast. Vova Gabisonia was injured and transferred to Batumi hospital. The territory of the old base is not fenced and local youngsters often collect scrap iron there.
Shota Khizanishvili, spokesperson of the Georgian Interior Ministry's Press Service, has stated that the base in Urekhi existed in Soviet times and the mine may have been left there from that period. He declined any possible connection with the Russian invasion in August. "This is an unfortunate incident. The site of the explosion will be searched for other possible mines," stated Khizanishvili, talking to
The Messenger
.
Reports about explosions at the sites of former Russian and Soviet military bases regularly appear in the media; usually the victims are children. The most recent prior incident occurred this October in Gori, when two Georgian teenagers where wounded by a Russian mine whilst also collecting scrap metal.